$3.7M Research Grant Awarded to Artificial Intelligence Project for Medical Imaging
University of Waterloo's Kimia receives $3.7M for its AI project for digital pathology.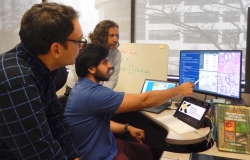 Waterloo, Canada, May 16, 2018 --(
PR.com
)-- University of Waterloo's Kimia Lab announced today that its AI project for digital pathology has been awarded a grant by the Ontario Research Fund – Research Excellence program (ORF-RE).
The project aims to develop an intelligent search engine for digital pathology that can retrieve relevant cases from large archives, auto-caption the images, and facilitate consensus building.
"Digital pathology has opened new horizons in medical diagnosis," says Professor Hamid Tizhoosh, the director of Kimia Lab and the Principal Investigator of the project. "At the same time, we have been witnessing the rise of artificial intelligence technologies in recent years that could be applied to discover and exploit the collective wisdom in the big image data." The project, titled "Computational Peer Review through Identification and Captioning of Gigapixel Digital Pathology Scans" is entirely focused on using, fine-tuning and designing AI algorithms for whole-slide imaging.
The Ontario government will fund the 5-year project with a grant in amount of $3.2M. Huron Digital Pathology (St. Jacobs, ON, Canada), as the industrial partner of Kimia Lab, will contribute $500k to the project. The company is the only Canadian manufacturer of digital scanners for pathology. Four professors from the University of Waterloo (Mark Crowley, Ali Ghodsi, Oleg Mikhailovich, and Hamid Tizhoosh), together with the machine learning group at the University of Guelph led by professor Graham Taylor (Vector Institute), and professor Shahryar Rahnamayan (UOIT) will collaborate with three hospitals to design and test an advanced search engine for large pathology archives. Grand River Hospital (Kitchener, ON), Southlake Regional Health Centre (Newmarket, ON) and University of Pittsburgh Medical Center (PA, USA) will not only provide data but also validate the results of the project.
"We regard this as an exciting and historic opportunity to contribute to the improvement of the healthcare system in such a sensitive and significant field as pathology," adds Tizhoosh, "specially at this point of time when the research in artificial intelligence has started to yield practical results."
About Kimia Lab – The Laboratory for Knowledge Inference in Medical Image Analysis (short
Kimia Lab
) is a research group hosted at the Faculty of Engineering, University of Waterloo, On, Canada. Kimia Lab, established in 2013, is a member of Waterloo Artificial Intelligence Institute and conducts research at the forefront of mass image data in medical archives using machine learning schemes with ultimate goal of extracting information that cannot only support a more speedy and accurate diagnosis and treatment of many diseases but also establish new quality assurance based on mining of existing evidence. The lab trains graduate and undergraduate students and annually hosts international visiting scholars. Professor Hamid Tizhoosh, Kimia Lab's director, is an expert in medical image analysis who has been working on different aspects of artificial intelligence since 1993.
Contact
Kimia Lab
Hamid Tizhoosh
519-888-4567
http://kimia.uwaterloo.ca/

Contact