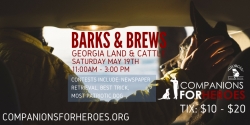 Savannah, GA, May 17, 2018 --(
PR.com
)-- "Barks & Brews," an event for Armed Forces Day will be held May 19th from 11am – 3pm at 1733 E. President Street in Savannah. This is a fundraising event supporting "Companions For Heroes."
Well behaved socialized dogs are welcome at this event. The day of festivities will include special guest speakers, the opportunity to meet other veteran run businesses and programs, C4H dogs and veterans, including canine demonstrations. There will be plenty of food available at the event along with select brews. Dogs are welcome at the event and there will be contests held for willing canine participants to include a Newspaper Retrieval, Most Patriotic Dog, and Best Trick.
The C4H program was founded in 2009 and has a mission of pairing shelter and rescued animals with the 1% of our nation that volunteer to be public servants who place themselves in harm's way, who are challenged with PTSD, and dealing with the experiences they have had protecting our way of life. Throughout C4H's years the program has aided over 7,000 of America's Bravest and found caring homes for numerous shelter animals. C4H is committed to providing a shelter or rescue animal [companion] to the active duty service member, military veteran, law enforcement officer, first responder and their family member that do not have a companion in their life.
A veteran talking about the affect a C4H companion has had on his life:
"Even on the worst days when [we] are tired and burnt he can have us laughing in seconds, and hearing my wife laugh is some of the best medicine in the world. He makes me forget the pain and everything while we play and when it is nap time he hops right on the bed and takes a nap also. I can tell you for a fact that [our companion] will make me want to keep going again...I was getting to the point of giving up and now...life feels so much better. So again thank you, thank you, thank you. You all (C4H) provide a great service to the vets and everywhere I go I let them know about Companion for Heroes and the fine service they do."
This important fundraiser is being presented in honor of our armed forces and in support of the "Companions for Heroes" (C4H) program. Funds raised will go directly to C4H and is presented in partnership with Georgia Land & Cattle and Infield Media & Promotions.
This event will be held on Armed Forces Day, May 19th at 1733 E. President St, Savannah, GA 31404. The event will be held from 11:00 AM to 3:00 PM.
Georgia Land & Cattle is a new company that represents Georgia lifestyle and is "A Southern Lifestyle Company" that supports Local Farms, Local Businesses, and Local People in the Coastal Georgia Area. Founder and co-owner Daniel Merritt an Army Veteran himself says, "I think you will find that we have just the right gift for just about any occasion, for just about anyone you can think of. Even those friends and family who are impossible to shop for, we have you covered." Companions for Heroes is a Georgia company. Merritt also co-Founded Nine Line Apparel. The event is being hosted at a Nine-Line location.
Admission to the event will be $10 per person and includes a raffle ticket and a bandana or $20 to add two beer tickets. Tickets can purchased in advance via the website at:
http://companionsforheroes.org/c4h-events/
Tickets may also be purchased at the event for $20. All proceeds above cost go directly to C4H.
To learn more about C4H, or make a very appreciated donation, please see the C4H website at
companionsforheroes.networkforgood.com
. C4H is a registered 501(c)(3) nonprofit organization federal ID #27-0648741
Infield Media & Promotion, Inc. provides contracted PR and Marketing to Veteran Support Organizations. For press inquiries about this event please contact Ms. Cecillia Lin at
PR@InfieldMedia.com
or 336-365-6624.