Winters Rock Entertainment to Produce Feature Length Documentary Film Showcasing Professional MMA Fighter Marcus Kowal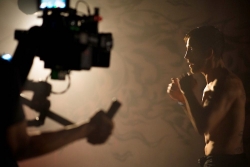 Los Angeles, CA, May 21, 2018 --(
PR.com
)-- Los Angeles based
Winters Rock Entertainment
has secured the story rights to produce a feature length documentary film about professional MMA fighter and TV personality Marcus Kowal. The film will showcase Marcus and his wife Mishel's fight to change the legal and social attitudes surrounding drinking and driving after the tragic death of their 15 month old son, Liam, to a drunk driver.
Coming to the United States from Sweden, Marcus was living the American dream. He owned three fight gyms in the Los Angeles area, was married, and had a fifteen month old son, Liam Mikael Kowal. Everything changed on September 3rd, 2016. Liam was struck by a drunk driver and brought to Hawthorne Hospital, where he was placed in the ICU unit and kept on life support. On September 4th, the doctors declared Liam brain dead, and Marcus & Mishel were faced with the most difficult decision a parent could ever face. On September 5th they said goodbye to their baby boy and removed Liam from life support. They then made the heartbreaking and courageous decision to donate Liam's organs.
Letters to Liam
, which has an anticipated release date of fall 2018, follows Marcus & his wife Mishel as they navigate a complex legal and political system in their attempt to implement a proposed law to lower the legal driving BAC, start a non-profit organization, make multiple TV and public appearances, welcome their new son Nico, and manage their three gyms, all while trying to overcome the grief of losing a child. The film will also explore Marcus' "fighter mentality" as he battles to create change in his son's name; both in the political world and with his riveting retirement MMA fight.
Directed by the creative team of Miranda Winters and Rocky Romano, producers of multiple award-winning documentary films as well as over 130 episodes of unscripted television, the feature length film will depict a raw and intimate perspective of tragedy, hope, and perseverance.
"Marcus and Mishel have taken a tragedy and turned it into a movement towards real change in the state of California and the rest of the country. Their persistence and strength in the face of such an overwhelming opponent really makes this a David vs Goliath story." - Rocky Romano, Co-Director
"They are up against well funded lobbyists and institutions that want to keep the DUI laws as they are, but those lobbyists have not met the Kowal's yet." - Miranda Winters, Co-Director
Letters to Liam is being produced in state of the art 4K UHD HDR format. All rights to the film are represented by Beverly Hills based distribution company Principal Media.
About Winters Rock Entertainment:
Founded in 2015 and led by the award-winning creative team of Miranda Winters and Rocky Romano, Los Angeles based Winters Rock Entertainment is a leading producer of 4K / Ultra High Definition / High Dynamic Range content with over 50 hours of UHD content produced in the past year alone, and 130 episodes of UHD television to their credit. The creative duo, along with their Director of Photography Alexey Orlov, specialize in taking audiences on an unparalleled experience through compelling storytelling coupled with stunning cinematography.
In addition to being the creative masterminds behind a broad portfolio of scripted and unscripted content, Winters Rock Entertainment has pioneered the landscape of the UHD content frontier. Their proven and talented team have been at the forefront of solving the production and post-production problems created by producing UHD/HDR content. Their projects include scripted films and television shows, doc-reality television, animated children's films, documentary films, mobile games, live events, content platform development, and apparel/merchandise lines. Their work has been featured on HBO, ABC, NBC, ESPN, RTL, SKY, FOX, Outside TV, Ultimate Fighting Championship, and 20th Century Fox.
Winters Rock Entertainment's Business Development team is led by Robert Martin, and is focused on the transition to producing state of the art UHD 360 content platforms that can be integrated with proprietary data and analytics platforms. Robert is an entrepreneur with a background in clean energy financing, software development, data driven marketing and analytics. Along with Michael Hollister, an experienced entrepreneur and attorney specializing in commercial and licensing law, the Winters Rock development team creates and implements future-proof solutions for the constantly changing content frontier.
Contact
Winters Rock Entertainment
Peter Bell
(424) 501-4625
https://www.wintersrockentertainment.com/

Contact