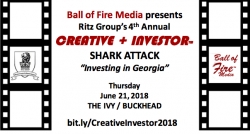 Atlanta, GA, June 19, 2018 --(
PR.com
)-- Ball of Fire Media presents Ritz Group's 4th Annual Creative + Investor Shark Attack at The Ivy in Buckhead, sponsored by Kugarand Capital Holdings.
The June 21st event includes both an educational and social forum to connect, learn and grow with a workshop: How to Package Your Film for Funding, so content creators can bring their stories to life while putting Georgia talent to work, leveraging the infrastructure that has made Georgia the #1 state for filmmaking.
With at-capacity crowds expected again, the capstone Entertainment Shark Attack event, created by Ritz Group visionary Larry White, has been produced by Ritz Group's Entertainment Group Leader and CEO of Ball of Fire Media, Bernadette Boas, since 2015.
The Shark Attack panel of industry icon judges will give feedback, strategies and support on 11 select film funding pitches, provide a Pass/Recommend grade to the content creator, and will choose the Best Pitch for a prize package of industry products and services that will advance the creators work.
A full roster of industry experts will support the day, including Stanislav Shkilnyi of Crogan Filmworks, LLC, a Film Sales Company, John Adcox of Gramarye Media, Inc., Drew Waters and Erin Bethea of Argentum Entertainment, Chris DeBlasio of Agency 850, Chris Helton of Silver Line Films, Inc., Karen Rands of Kugarand Capital Holdings, and Eileen O'Neill of EY.
Community Partners include Women in Film and Television Atlanta (WIFTA), Morin Entertainment Law, Production Accounting and Crew Services International (PACS), Atlanta Nova House, Agency 850, and Burst Video/Film Inc.
The mission for the Creative + Investor programs is to empower Georgia to become a Producer State through strategic collaborations between the creative and investor class to unify and generate greater returns for the community.
Attendees will have the opportunity to enjoy food and drink, explore Exhibitor Tables, and network with Industry Executives, Producers, Directors, Civic Leaders and Celebrities.
10% of the proceeds from the event will benefit various industry groups who are working tirelessly to strengthen the entertainment industry.
Ritz Group is a non-profit organization committed to sustainable growth in the State.
Ball of Fire Media is a high impact brand division of Atlanta based, Ball of Fire Inc., that brings educational and entertaining programs, events, merchandise, authorship licensing and opportunities to its fans, followers, clients, students, creatives, investors, clients and audiences.
Tickets and more information can be found at Creative + Investor 2018.
For sponsorship, community partnership, exhibitor and media opportunities, contact Bernadette Boas at Ball of Fire Media at 678-438-1908 or BernadetteBoas@BallofFireInc.com