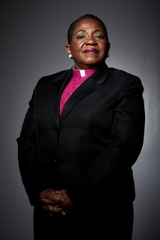 Brooklyn, NY, June 26, 2018 --(
PR.com
)-- Bishop Dr. Barbara E. Austin Lucas, the First Consecrated Woman Bishop of the Dunamis Covenant Connection under the leadership of Archbishop Dr. Robert Joel Rochford, Sr., will lead women representing the diverse tapestry of our world during the Sisters Sharing 2018 Convocation Series at Agape Fest: Love Made A Way. This gathering will convene at the Princeton Marriott at Forrestal in Princeton, New Jersey on Friday, July 27 through Sunday, July 29, 2018.
The purpose of this gathering is to execute a convocation that develops wholistic strategies to effectively equip families to meet the challenges of their communities and the families who live within them; to foster renewed hope and potential by reclaiming each life, family, community, and the world. Designed to be a new paradigm of meeting the needs of its constituency, one (100) hundred women and their families are afforded an opportunity to experience a date with destiny. Sisters Sharing 2018 attendees will be encouraged to rediscover and rededicate their lives to God and their commitment to empower others.
Within the wholistic strategy of Women Organizing, Mobilizing and Building, Inc. (WOMB), the Sisters Sharing Convocation Series seeks to produce life-changing agendas to prescribe hopeful solutions as families embrace the potential manifested from those who dare to believe. This year's convocation series will include new highlights such as the Emotionally Healthy Spirituality training and Bishop's Ball purposed to aid the Queen Mothers' School building project in Ejisu (Ghana, West Africa) which is spearheaded by the reigning Queen Mother of Ejisu, Nana Yaa Asantewaa, II.
Nearing its third decade of ministry, the Associates and Executive/Advisory Boards of Women Organizing, Mobilizing and Building, Inc. (WOMB, Inc.) invite supporters to journey with them and the Agape Tabernacle International Fellowship, a Jesus-centered spiritual well founded by Bishop Dr. Barbara E. Austin Lucas in 1998 and headquartered in Canarsie, Brooklyn, for three days on twenty-five picturesque wooded acres at the Princeton Marriott at Forrestal. Organizers intend to share this exciting endeavor to promote renewal that fosters healing for women, men, couples (married), young adults (19-22), teens (13-18) and children (4-12).
To register for the Convocation, purchase tickets to the Bishop's Ball, and/or to book your hotel accommodations, please proceed to www.DesignatedDestiny.org.
To familiarize yourself with Bishop Dr. Barbara E. Austin Lucas and her international ministry, proceed to www.thewellatagape.com.
God made a way.