LightPointe 20th Year Customer Appreciation Celebration Continues as It Rolls Out Limited Time Summer Savings on AireLink 60 GHz and 80 GHz Wireless Bridges
LightPointe, a San Diego-based manufacturer of outdoor radios used to connect buildings and telecom towers, is offering special savings on many of its AireLink radios now through July 31st, 2018.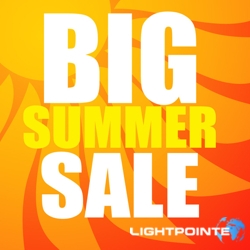 San Diego, CA, July 11, 2018 --(
PR.com
)-- LightPointe, the number one manufacturer of hybrid outdoor point to point radios used to connect buildings and towers, continues to celebrate the company's 20th anniversary by offering special customer appreciation promotions. For orders of AireLink 60 GHz and 80 GHz radios up to 2.5 Gbps, customers will receive up to $2,000 off each system now through July 31st. Since 1998, LightPointe has manufactured the broadest range of hybrid connectivity solutions up to 10 Gbps.
"Our 60 and 80 GHz radios have long been the benchmark for performance, offering longer distances, higher capacity, and the industry's lowest latency and now - as part of our 20th year anniversary - we're making them more affordable," said Lorian Sanders, the Chief Operating Officer for LightPointe who has led the company's manufacturing efficiency efforts and ISO 9001:2008 quality certification. "LightPointe's AireLink Series provides fiber-like long distance building connectivity for schools, businesses, government agencies and hospitals - without trenching for fiber or the recurring costs of leased-lines. The AireLink Series is the world's only point to point solution offering nine levels of adaptive Coding and Modulation, which enables the radios to automatically optimize throughput in real time, in any weather. And unlike competing radio manufacturers which subcontract production to offshore factories, the vast majority of LightPointe's products are designed, manufactured, and tested in the USA at our ISO 9001:2008 facility where our engineers work alongside production and quality control workers."
AireLink Series Features:
Up to +70 dBm max EIRP for reliability/long distance.
High speed full-duplex with low latency.
Real-time Full Line Speed FIPS AES 256 encryption option.
9+ mile distances.
Ideal for Enterprise data networks between buildings, and for security camera/video backhaul.
Made in the USA and supported by a worldwide network of distributors and resellers.
LightPointe also offers a full line of 10 Gbps radios, which provide up to 20 Gbps total aggregated link capacity.
About LightPointe
LightPointe (www.LightPointe.com) is a San Diego-based manufacturer of 60 GHz and 80 GHz backhaul radio solutions up to 20 Gbps Full Duplex for Enterprise building connectivity and 5G LTE carrier markets. The company also makes Ultra Low Latency wireless bridges for High Frequency Trading, and Data Centers.
Contact
LightPointe Communications, Inc.
Todd Easterling
+1-858-834-4083
www.lightpointe.com

Contact