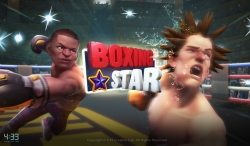 Seoul, Korea, South, July 13, 2018 --(
PR.com
)-- Publisher and mobile game developer Four Thirty Three Inc. (4:33) announced that its upcoming mobile sports game Boxing Star is now available on iOS and Android devices.
Boxing Star features an immersive Story Mode in which players fight through challengers with unique fighting skills. Pitted in a boxing ring against the challenger, players must take on opponents with their own unique fighting styles and skills. Players can improve their boxer's core skills through a skill-set upgrade, where they can master their jab, hook and special moves to knock out their opponent.
A fairly deep character customization mechanic set this game apart from other boxing games. Character customization includes your outfit, accessories, hairstyle, skin color, clothing and tattoos.
The game's music is an element that will keep players pumped throughout the fight. The game features four powerful hip-hop music tracks from a few underdog rappers. C.Cle, C.Swag, Pinnacle TheHustler and BOiTELLO each added their own swag to Boxing Star's soundtrack.
To celebrate 1 million pre-registrations, Boxing Star is giving out Joe King's rare edition boxing gloves for your boxer. Boxing Star is now available on Android and iOS platforms in 140 countries.
Image
https://www.dropbox.com/s/u3lxpcpckqsuepi/Boxing%20Star%20Main%20Image.jpg?dl=0
Facebook
https://www.facebook.com/boxingstarglobal/
Trailer
https://www.youtube.com/watch?v=XJUBiwvmBqk
Download Link
https://play.google.com/store/apps/details?id=com.ftt.boxingstar.gl.aos
https://itunes.apple.com/sg/app/boxing-star/id1241887528
About Four Thirty Three Inc.
Four Thirty Three Inc. (4:33) is a mobile game publishing corporation. Founded in 2009, 4:33 received the first President's Game Award among mobile titles with "Blade for Kakao." Other titles such as "Three Kingdoms Blade," "Hero for Kakao," and "Lost Kingdom" are also well-known hit titles. In 2016, "Monster Super League" launched in 136 countries, which demonstrated the global publishing capabilities of 4:33. For more information, please visit http://www.433.co.kr