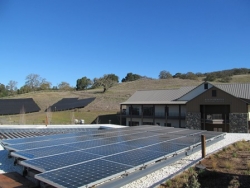 Novato, CA, July 19, 2018 --(
PR.com
)-- Designed and engineered to offset 105% of total energy usage the solar photovoltaic system is roof mounted, consisting of two solar arrays, one of which is integrated with the "living roof," installed by Symbios Ecotecture, using filtered greywater. This 19,500 sq. ft. building is designed to create more energy than it uses, thereby returning surplus energy to the grid, making it a zero net energy (ZNE) and zero net water building. "We are honored to be working closely with Sonoma Academy, WRNS Studios architects and XL Construction to help make this visionary project a reality," says Robert Gould, Director of Commercial Sales at SolarCraft. "It proves what is possible with innovative thinking to create a better world for all and the next generations. It's an example that students, and the whole community, can learn from and be inspired by."
In addition to the new photovoltaic system, a 208 kW solar power project was designed and installed by SolarCraft in 2016, offsetting energy use in their existing campus buildings.
"We are thrilled with the thoughtful design in every aspect of this project which enabled us to use free natural resources like natural light and fresh air," stated Janet Durgin, Head of School and project namesake. "These elements make a huge difference in our teachers' ability to teach and our students' ability to learn. We intend to use the building and its energy systems themselves to teach sustainability in community. That is exactly the greater purpose we hope Sonoma Academy brings to the greater North Bay."
The new solar power system will generate 210,000 kWh annually, enough electricity to power about 17 average homes per year. It will avoid production of 156 metric tons of carbon dioxide emissions per year, which is the equivalent of removing nearly 10 million miles of driving over the next 25 years. That's also comparable to the air pollution removed by 184 acres of trees annually.
In addition to the rigorous certification requirements of the Living Future Institute's Living Building Challenge, Sonoma Academy is Seeking LEED Platinum, ZNE, WELL Education Pilot, and LBC Petal certification for this progressive structure.
About Sonoma Academy
Sonoma Academy is the only independent, college preparatory high school in Sonoma County. On its beautiful 34-acre campus nestled at the base of picturesque Taylor Mountain in South Santa Rosa, Sonoma Academy students are able to explore their interests and passions in a challenging environment that prepares them for college and life beyond. The Academy has undertaken a program of environmental excellence, aiming for a zero net-energy standard for its new facilities.
SolarCraft is 100% Employee-Owned and one of the largest green-tech employers based in the North Bay for over 35 years. SolarCraft delivers Clean Energy Solutions for homes and businesses including Solar Electric, Solar Pool Heating and Battery / Energy Storage. With over 7,000 customers, our team of dedicated employee-partners is proud to have installed more solar energy systems than any other company in the North Bay.
www.solarcraft.com
.