PowerHouz Reveals Its New Suite of HomeKit Services Including Installation, Application and Support
PowerHouz announces a new suite of services dedicated to the Apple HomeKit Home Automation and is now providing a turnkey solution for end users including installation, application, and support.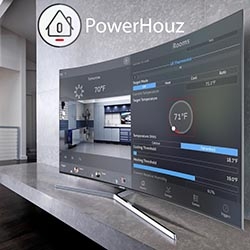 Irvine, CA, July 25, 2018 --(
PR.com
)-- PowerHouz leverages some of the most advanced virtual support directly from the users' iPhone or iPad. It's installers network of Licensed Electricians is able to take care of the accessories installation and initial set up in order to make it completely effortless for the users.
The offer includes the PowerHouz App which adds key functionalities like the Security module or the communication functions to provide security and a complete home dashboard solution based of the HomeKit Protocol.
The Security module of PowerHouz takes a more proactive approach by triggering automated actions based on the risk level and providing emergency protocols and communication alerts in case of an actual threat.
"We realized that Home Automation is still perceived as complex and somewhat inaccessible by most consumers and in order to increase the adoption of HomeKit, we needed to provide installation services and better support to the end users. We are here to fill this gap," commented Denis Zysman, the CEO of PowerHouz.
PowerHouz is the only company offering a turnkey HomeKit solution and is developing its network of installers in the US and abroad.
For additional information or a Press Kit, go to PowerHouz.com or email us at press@PowerHouz.com.
About Zysco
PowerHouz is a brand of Zysco founded in 2007 by a Mobile Computing Veteran, publisher of over 35 iOS Apps. Located in Orange County, it is dedicated to empower users with intuitive and sophisticated mobile solutions.
Contact
PowerHouz
Alex Basso
714-313-8264
PowerHouz.com

Contact