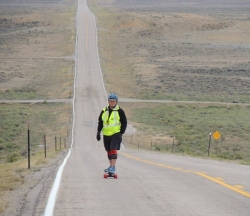 Morro Bay, CA, September 04, 2018 --(
PR.com
)-- Morro Bay Skateboard Museum founder, Jack Smith (61), has resumed his electric skateboard ride across America. His original 2016 ride began in Eugene, Oregon and ended in Mountain Home, Idaho after 460 miles. His second attempt began on August 16th, 2018 in Mountain Home, Idaho.
The e-board ride across America is a fundraiser for the Morro Bay Skateboard Museum a 501(c)(3) non-profit organization.
As of September 3, he is approaching the Iowa border.
This time Smith is riding an eboard provided by Inboard Technology, a Santa Cruz based company. The Inboard e-board which is similar in appearance to a traditional longboard skateboard, features swappable batteries. Top speed is around 22mph, with each battery providing a range of 7-10 miles. The board's speed and braking is controlled by a handheld wireless remote. Chris Perkins, a frequent visitor to the Morro Bay Skateboard Museum recently introduced Smith to his son, Jake, who works in the marketing department at Inboard. Jake in turn introduced Smith to Marc Schmid the Brand Community Manager at Inboard who was familiar with Smith's long distance skateboarding background. When he learned of Smith's desire to finish the ride he offered Inboard's support. Inboard will be supplying Smith with e-boards, batteries and spare parts. Schmid commented, "Inboard Technology is extremely excited to work with Jack on his upcoming adventure. His determination, experience and knowledge has already shown the world what is capable by pushing, now he is pushing the boundaries of what is possible with an e-board!"
GoWesty Camper Products, a Los Osos-based company specializing in designing, manufacturing, and retailing parts and accessories for VW campervans, is providing Smith and his wife Cathy with a support vehicle for their adventure. Eric Eiden, a GoWesty employee who Smith coached in high school basketball at Morro Bay High School during the 1980s, introduced Smith to GoWesty's Taylor Grant (Vice President) and Jad Josey (General Manager). After a bit of getting to know each other, Grant and Josey decided to become the support vehicle sponsor for the ride. GoWesty will provide a 1990 Vanagon Camper, fully outfitted with GoWesty engine, exhaust, cooling system, and tons of accessories to make the trip comfortable and fun. "This van has been purpose-built to be a road-tripping machine," Josey said, adding, "We're excited and honored to help support Jack and Cathy Smith as they trek across the country, and we think this VW camper is going to be the perfect accessory for their mission." Smith, a former VW Westfalia owner commented, "I've known of GoWesty for years and now thanks to Taylor, Jad and Eric we now have the perfect support vehicle for our e-board ride across America. Cathy and I are stoked!"
Accompanying Smith as his support crew is his wife, Cathy, who retired in June after a 35 year career as a third grade school teacher. In 2013 she was the support vehicle driver and den mother to Smith's team that pushed longboard skateboards across America in a fund and awareness effort for Alzheimer's Disease.
Smith has completed four skateboarding cross country relay events, the first was in 1976 with Jeff French and Mike Filben. That trip was followed with a fundraising push for Multiple Sclerosis across America with Paul Dunn, Gary Fluitt and Bob Denike. In 2003 Smith, along with Nick Krest, Josh Maready and Scott Kamm pushed their boards from coast to coast in honor of Smith's son, Jack Marshall Smith who passed away in May of 2003 from complications due to Lowe Syndrome. That push also served as a fundraiser for the Lowe Syndrome Association. The 2013 push team included Smith's son, Dylan Smith, Coleen Pelech, Melanie Leilani Castro and Marc Juvinall.
For more information please contact:
Jack Smith
805-610-3565
jack@mbskate.com