Mesa Technical Associates, Inc. to Acquire Lead-Acid Battery Business from Alcad in North America
Mesa Technical Associates, Inc. acquires lead-acid battery business from Alcad in North America. Alcad will now focus exclusively on providing full battery solutions and services based on its flagship nickel-cadmium (Ni-Cd) products. Mesa will expand its lead-acid battery product and service offering to its customers in the utilities and industrial sectors.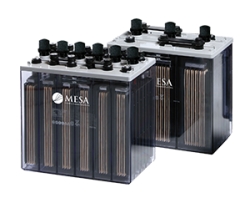 Cobleskill, NY, September 13, 2018 --(
PR.com
)-- Mesa Technical Associates, Inc., a provider of turn-key DC power solutions for telecommunications, utilities, and industrial markets, and Alcad, the world's leading supplier of advanced technology battery solutions for standby applications, have concluded an agreement for Mesa to acquire Alcad's lead-acid battery business unit in North America. Alcad will now focus on its core business of providing complete solutions for nickel-cadmium battery systems.
"This agreement is a real win for both companies and customers. Alcad can focus on growing their core advanced battery solutions, while Mesa will significantly expand its nationwide lead-acid business and presence. Mesa is well positioned to service the thousands of customer sites in North America, who can expect extraordinary service and uncompromising quality, with competitively priced products and solutions," said Howard Gartland, President of Mesa Technical Associates, Inc.
Existing Alcad customers and sales channel partners will benefit from added solution sets from Mesa including: installation services, custom power cabinet integration, mobile sub-station battery trailers, battery testing services, and energy storage systems.
"Mesa is without question the best choice to carry on the lead-acid legacy Alcad has created for over four decades in North America, based on their capabilities, experience, and reputation in the industry. Alcad's highly competent sales, engineering, and operations teams in North Haven, Connecticut will now be able to concentrate on enhancing our customers' experience for full solutions and services featuring our robust and long-lasting nickel-cadmium batteries," said Marino Cavaggion, Director of Sales in North America for Alcad.
This important change is allowing Alcad to adopt a new focus. Over the past few years, nickel- cadmium has seen a very large increase in new adopters in the areas of outdoor utility switchgear applications, generator set engine starting, and various other applications in the upstream and downstream oil and gas business, all of which require a very high level of safety and reliability.
Alcad is one of the world's major suppliers of nickel-cadmium batteries for industrial and commercial applications. The company offers an extensive range of cutting-edge battery solutions, designed to deliver high performance, safety and reliability.
Mesa Technical Associates, Inc. provides turn-key DC power solutions for telecommunications, utilities, and industrial customers. We install a wide range of energy products, batteries, power plant enclosures and structures, and complementary telecommunication products. Services include battery recycling and power system replacement and maintenance, compliance testing, and power plant upgrades. Mesa. Safety and reliability by design.
We believe in better, smarter energy solutions. More at
mesa-tec.com
.
Contact
Mesa Technical Associates
Adam Alalouf
518-234-2000
mesa-tec.com

Contact