The First Zero Emissions Blue Bird All American School Buses Delivered to Multiple California School Districts by A-Z Bus Sales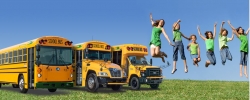 Colton, CA, October 02, 2018 --(
PR.com
)-- A-Z Bus Sales, Inc., a leading provider of transportation solutions, successfully delivered seven new All Electric - All American zero emissions school buses built by Blue Bird to multiple school districts in Southern California this past week. These buses were funded by South Coast Air Quality Management District (SCAQMD) and CalStart's HVIP Program.
A-Z Bus Sales was the first and only dealer to deliver the Electric School Buses under the SCAQMD Grant deadline of September 30, 2018. The Type D All American rear-engine electric school buses are 72-passenger buses and have a similar design to that of many Blue Bird Type D compressed natural gas (CNG) buses that districts operate in the state today. The California Air Resources Board (CARB) approved the Blue Bird All Electric school bus for the Hybrid and Zero-Emission Truck and Bus Voucher Incentive Program (HVIP) providing California School Districts with funding opportunities for the all-electric school bus.
Bellflower Unified School District was one of the school districts receiving the funding for these new Blue Bird buses. "The main reason we chose to go with Blue Bird was the local support from A-Z Bus and Blue Bird itself," said Mark Toti, Bellflower Unified School District Transportation Director.
Mountain View School District was also awarded funding for two electric Blue Bird buses. "We are extremely impressed with the quality and performance and are eager to make full use of our new fully electric buses," said Hector Morales, Mountain View School District Supervisor of Maintenance, Operations, and Transportation.
"We are very excited to help school districts throughout the state replace their old diesel school buses with this exciting new Blue Bird technology. With grant programs abounding in California for zero and near zero emission school buses, now is the time to take advantage of this momentous opportunity," said John Landherr, A-Z Bus Sales President and CEO.
"After serving California school districts for over 30 years, A-Z Bus Sales now has Type A, Type C, and Type D zero emission solutions to assist with almost every student transportation need," said Brandon Bluhm, A-Z Bus Sales Director of New School Bus Sales.
About A-Z Bus Sales, Inc.
A-Z Bus Sales, Inc. is a transportation dealer-distributor serving the education, government, public sector, commercial and private fleet markets with a broad portfolio of passenger transportation solutions. The employee-owned company specializes in green alternative fuel products. A-Z provides sales, service, parts, and financing for both new and pre-owned buses. Founded in 1976, A-Z Bus Sales has built a reputation for long-lasting customer relationships, professionalism and integrity, and the share positions in markets served. Headquartered in Colton, California the company has multiple sales and service locations serving California, Arizona, Nevada, and Hawaii. More information is available at www.a-zbus.com or by calling 800.437.5522.
Contact
A-Z Bus Sales Inc.
Karlee Valdez
951-781-1859
a-zbus.com

Contact