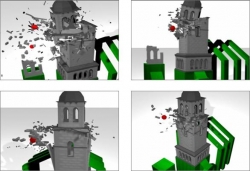 Raleigh, NC, March 15, 2008 --(
PR.com
)-- TSNStudios (TSNS) has launched a new service for the film production, entertainment and gaming industries. Through an application of the advanced Extreme Loading® technology developed by its sister company Applied Science International (ASI), TSNS has succeeded in creating a level of visual effects realism previously unachievable on the big screen.
Edward diGirolamo, CEO of TSNS, explained, "The technology we have developed is now available for interactive use with the industry's most popular rendering and animation tools. But, the real story lies in the significant time and dollar savings realized when visual effects can be substituted for live demolition. We estimate that projects, which normally take months, can now be accomplished in weeks or even days. TSNS can produce more options in less time from which the visual effects team may choose; from storyboard and previz to final cut."
Originally developed by engineers and scientists for the analysis and simulation of material separation during structural collapse, this proprietary technology has a capacity for producing unprecedented visuals that are closer to reality than any cinematic technology in use today.
"We have taken this innovative technology to the experts in the film and gaming industries, the ones who make it all happen. We have listened to their needs, recognized the overwhelming demand for improved realism in the next blockbuster movie, game or Super Bowl commercial, and developed the technology to make that key difference. It is our ability to provide engineering accuracy in everything from 3D previsualizations to animation sequences virtually indistinguishable from reality that sets us apart from what other leading edge tools can produce today," commented diGirolamo."
TSNStudios' visual effects are currently under consideration for several major motion pictures. For more information on how Extreme Loading technology and TSNStudios can be of benefit, call us directly or go to
www.tsnstudios.com
.
###