Latinx Horror Film "Murder in the Woods" with Jose Julian and Danny Trejo to Make Its European Premiere
Belgium & Germany to screen Luis Iga's Latinx, award-winning slasher which is becoming a cult classic and breaking diversity barriers in Hollywood.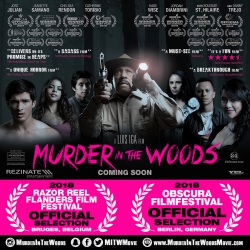 Los Angeles, CA, October 08, 2018 --(
PR.com
)-- Luis Iga's Latinx, award-winning film "Murder in the Woods," starring José Julián ("A Better Life") and featuring Latinx icon Danny Trejo ("Machete"), will have its European Festival Premiere at the Razor Reel Flanders Film Festival in Bruges, Belgium on Saturday, October 27th (For more information go to: http://bit.ly/mitwrazorTixPR) and on Saturday, November 3rd at the Obscura Filmfestival in Berlin, Germany (For more information go to: http://bit.ly/mitwobscuraInfoPR).
The film from Mexican auteur Luis Iga was written by Latina writer Yelyna De Leon and has played to packed houses in Los Angeles, Portland, New York, Denver and Chicago. Now Bruges and Berlin will get its first taste of what critics have called, "a breakthrough," "smart, funny & very effective horror" film with a "phenomenal storyline" that "delivers on its promise in heaps" and "recalls classics of the genre like 'Friday the 13th' and 'Scream' but has a voice and style all its own."
"Our goal was to make a horror/slasher film for a global audience to showcase 'People of Color' in lead non-stereotypical roles and we are excited that these two prestigious Horror Film Festivals in Europe agree with us," said Director and Producer, Luis Iga. "I want to thank Patrick Van Hauwaert (Razor Reel's Managing Director) and David Ghane (Obscura's Festival Director) for being pioneers in reshaping how the world sees 'People of Color' and Minorities in cinema," he added.
Writer and Producer, Yelyna De Leon said, "I am very grateful to both festivals for the opportunity to have European audiences see our independent film as our goal was to make a universal horror film with a diverse cast that global audiences could enjoy."
The rest of the ensemble cast includes Jeanette Samano ("Female Fight Squad," "Isa"), Chelsea Rendon ("Bright," "Vida"), Catherine Toribio ("Jane the Virgin"), Kade Wise ("Empire") and Jordan Diambrini ("The Outfield"). It also features Soledad St. Hilaire ("Beatriz at Dinner"), Kurt Caceres ("Dexter") and Rolando Molina ("American Dad!")
"Murder in the Woods" is a production of REZINATE Entertainment, founded by Luis Iga. REZINATE partnered up with Yelyna De Leon to produce this film. Both graduated with an MFA in Film and Television Production from the School of Cinematic Arts (SCA) at the University of Southern California (USC) where they met.
About REZINATE Entertainment:
REZINATE is an entertainment company founded by Luis Iga. The company is involved in the production, financing and distribution of audiovisual projects including Film, Television, Animation, Video Games and Virtual Reality. REZINATE has a global presence with clients and projects that are developed around the world. http://www.rezinate.com
For more information on "Murder In The Woods:"
Website: http://www.murderinthewoodsmovie.com
Trailer: http://bit.ly/EUprmitw
Facebook: @MITWMovie
Instagram: @murderinthewoods
Twitter: @MITWMovie
Snapchat: @MITWMovie
IMDB: http://www.imdb.com/title/tt6083146
Contact
Chop Chop Entertainment, LLC
Andy Arriaga
310-439-9029
www.murderinthewoodsmovie.com

Contact