Eastern Opera of NJ Returns to the Brook Bringing Puccini
Eastern Opera of New Jersey opens it's new season with Puccini's highly acclaimed opera, Manon Lescaut. Tickets are available for Friday November 9th with performance at 7pm and Sunday November 11th with performance at 3 pm at the newly restored Brook Arts Center, 10 Hamilton St. Bound Brook, NJ.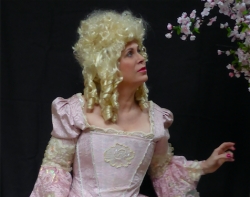 Warren, NJ, October 09, 2018 --(
PR.com
)-- Manon Lescaut, Giacomo Puccini's first successful masterpiece will open Eastern Opera's 2018-2019 season at the newly renovated Brook Arts Center on Friday Nov 9th and Sunday Nov 11th. Puccini's passionate adaptation of Prevost's tragic novel is a story about a young woman who makes some bad choices. Set against the poverty-stricken but jubilant lifestyle of 19th-century Paris, capricious, enigmatic Manon is rescued by the love-struck Des Grieux from being sent to the convent, but is soon seduced by the glamorous life of luxury, abandoning the man she loves in pursuit of opulence afforded by a wealthy old man. Alas, the 19th century "Material Girl's" avarice takes her down a harrowing path to her tragic end.
Based on the controversial and forbidden 1731 novel L'Histoire du Chevalier des Grieux et de Manon Lescaut, its author was a restless scandalous Benedictine priest named Antoine (Abbe) Prevost d'Exiles, who had a pretty checkered past of his own.
Puccini presented Manon Lescaut at the Teatro Regio on 1st February 1893, achieving resounding success. The author, not at all intimidated by the comparison with the erstwhile eponym by Massenet, wrote: "His [opera] will be understood by its French, with powder and minuets. Mine will be felt in the Italian way, with desperate passion." Puccini's early opera was successful due to its energy and freshness; a kind of impatience that runs from top to bottom. As a forbearer of today's woman, Manon is an important female figure in the arts. Historically, she served as a cautionary figure for men, warning that female sexuality should be restrained for a woman's own good. But as women and society have evolved, she can be seen now as an autonomous, strong willed woman, comfortable in her sexuality, who knows what she wants and will strive to get it.
David Maiullo, Eastern Opera of New Jersey's (EONJ) principal conductor and music director, will conduct Manon Lescaut. Mr. Maiullo, Chairman of the Board and Musical Director of the Bravo Alliance of Performing Artists, has been described by Opera News Magazine as "a pianist of sentiment, discretion and style." Mr. Maiullo is an accomplished accompanist/coach in the New York City Metropolitan area. His performances of more 2500 recitals and programs have led him to the stages of Carnegie Hall, Avery Fisher, Alice Tully, and Merkin Concert Halls in the US as well as venues in Spain, Portugal, Germany, Austria, Switzerland, Italy, France, England and Japan.
Singer, Director Karole Lewis, directs Eastern Opera's Manon Lescaut, which she describes as "A story filled with joy and despair," says Lewis. "The unbridled passion and beautiful melodies complete the drama. The story explores all elements of human emotion while filling the senses with beautiful music."
Lewis' directing prowess expands a large range in repertory. She has directed with Eastern Opera, Opera at Florham, The Baroque Orchestra Summer Festival, Livermore Valley Opera (in CA) and Monterey Opera (in CA). Ms. Lewis is also an accomplished singer and has performed leading operatic roles in California with Opera San Jose, Oakland Opera, West Bay Opera, Monterey Opera, Livermore Valley Opera, and Santa Cruz Bay City Opera—a company she co-founded and for which served as General Director. She has sung major soprano roles in Madama Butterfly, Die Fledermaus, Otello and Carmen (with Eastern Opera), La Traviata, La Boheme, Le Nozze di Figaro, Tosca, L'Elisir d'Amore, Carmen, I Pagliacci and Mark Twain and the General, among others. Karole was a finalist in the Metropolitan Opera's Western Regional Finals.
Manon Lescaut features the talent of nine singers from New Jersey. Karole Lewis will play the title role of Manon Lescaut. Tenor Peter Lewis will play the role of the faithful, Des Grieux. Baritone Joseph Flaxman as Lescaut, Manon's brother, the role of the Geronte will be baritone Donald Boos, tenor Dmitri Zigrino will play the part of Edmondo, Brenda Belohoubek will sing the role of the Dance Master, Bass-Baritone Don Kalbach will play the role of the Inn Keeper and Robert Scott will play the role of the Seargent.
The opera, sung in Italian, will be fully staged, with orchestra, sets and costumes. Two performances are scheduled; Friday, November 9 (at 7:30pm) and Sunday, November 11 (at 3pm) at the newly renovated Brook Arts Center, 10 Hamilton St, Bound Brook, NJ. Tickets are $40 for Adults and $30 for Senior/Students with group rates available. Order tickets at the Eastern Opera Box Office, by phone at (908) 566.5708 or online at
www.easternopera.org
About Eastern Opera
Eastern Opera of New Jersey was created exclusively for charitable purposes. EONJ was formed to encourage, teach and develop talented singers to their fullest potential. EONJ also strives to educate the public and enrich the community by bringing a high quality, affordable opera experience to diverse audiences. Eastern Opera of New Jersey Corp. is a 501 (c) (3) non-profit corporation. All ticket sales and donations are tax deductible. For more information contact Lou Kersey at loukersey@easternopera.org or visit
http://www.easternopera.org
.
Contact
Eastern Opera Corp
Karole Lewis
347-400-8567
https://easternopera.org/
Suzanne Drake 908.625.2128

Contact