SpeaksMedia.com Provides Writing Services for Health, Wellness, and Beauty Small Business Owners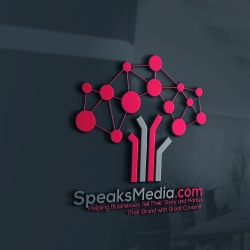 Killeen, TX, October 10, 2018 --(
PR.com
)-- Mahogany Speaks Media & Publishing LLC is launching its latest venture, SpeaksMedia.com, a writing services and content marketing agency that will cater to health, wellness, medical practices, natural hair, and online beauty supply business owners.
SpeaksMedia.com was founded by freelance writer, Tara Evans whose primary focus is to provide an affordable service to small businesses within a specific set of niches which include natural hair and online beauty supply stores. Business owners or delegated members of their team can access SpeaksMedia.com and select the content package that best meets their needs.
"The process is pretty sweet. Clients select the package of their choice, answer a few questions to guide us in the creation process and within five business days or less, we deliver the content to them for review and approval," says Tara Evans, writer, founder and CEO of SpeaksMedia.com.
"We are a small business much like our clients, and we recognize that content marketing is an absolute must-have for businesses looking to establish themselves as an authority and brand among a sea of competitors. Natural hair consumers are looking for quality content that is educational and informational. Wellness stores are seeking to educate a unique target audience about the products they sell and how they can improve the lives of their potential buyers," said Tara Evans.
About SpeaksMedia.com
SpeaksMedia.com is a content marketing agency who specializes in writing high-quality, affordable content (i.e., articles, blogs, website, and ebooks) for the following niches:
· Health and wellness
· Fitness
· Self-Help
· Natural hair care
· Beauty
· Medicine
· Hair extensions and wig lines
We pride ourselves in being able to support your business needs at an affordable rate.
Press Contact
Name: Tara Evans
Phone: 512-792-4614
Website: https://www.SpeaksMedia.com
Email:
tara.evans@speaksmedia.com
Contact
Mahogany Speaks Media & Publishing, LLC
Tara Evans
512-792-4614
https://www.speaksmedia.com

Contact