Artist Alexey Steele Uses Runway as Public Art to Share His Peace Message at the LA Fashion Week Grand Finale
Newly founded design company Sculptoglyph in collaboration with Bohemian Society international progressive fashion label will launch its "Peace Prevail" campaign at the Grand Finale of LA Fashion Week.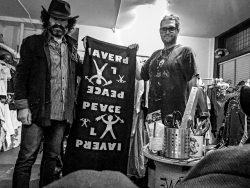 Los Angeles, CA, October 10, 2018 --(
PR.com
)-- Noted Southern California artist Alexey Steele will unveil new peace symbol designs by his newly founded company, "Sculptoglyph," at the Petersen Automotive Museum 6060 Wilshire Blvd., LA, CA 90036.
Alexey Steele describes the mission of his new venture: "When the drums of war become louder than reason, it is the right time for a new peace message. With all recent advances in humans' ability for mass slaughter - the nuclear proliferation, the rise of AI driven LAWs, the militarization of Earth orbit, the vulnerability of infrastructure to hacking WMDs - it is our instinct for survival and self-preservation that shall lead people to demand their basic human right to peace.
"The goal of Sculptoglyph is to design visual campaigns for peace across multiple public facing platforms and mediums to help visualize this right and to bring public attention to it.
"With the influx of refugees, human trafficking, destruction of communities in war zones we need to counter the epidemic of violence with the antidote of peace. Why make man made catastrophes of war when we have to overcome so many natural catastrophes? Why not empower ourselves through our communities and exercise our right for peace? The communities all around the world that suffered share with us the need for peace to prevail. Overcoming the adversity with peace is our opportunity to come together."
Alexey Steele has had multiple collaborations in the past ten years with Bohemian Society post-punk fashion and lifestyle label founder and principle designer, an interdisciplinary visionary Victor Wilde who is described in a press as Downtown LA's Bohemian Prince. Alexey Steele views his new collaboration with Victor Wilde on runway of LA Fashion Week as a form of public art.
All Bohemian Society collections are visual and message driven objects of kinetic and performance art thus making its collaboration with Sculptoglyph a natural fit for inclusion into SS19 collection called Manifest. The presentation of Manifest is closing LA Fashion Week with a Grand Finale at the Peterson Automotive Museum on October 10 at 9 pm.
About Sculptoglyph
Sculptoglyph is a design studio providing a range of conceptual solutions in fashion, art and architecture.
It is built on a belief that society which loses shared ideals seizes to exist.
It aims to address the need for commonly shared goals and principles despite all the differences, developing the credible, compelling and unifying message that can be shared across multiple platforms to enter collective consciousness.
Sculptoglyph understands the role of art as an applied force, investigating various aspects of the effect an artistic image can excerpt on society and aims to achieve these goals through developing and implementing specific imagery in the fields of fashion, art and architecture.
About Alexey Steele
Alexey Steele is LA based visual artist known for his large-scale figurative works, public art projects, portraits and landscapes. Content and function of art within society play important part in Alexey's views on making art, relevant in our contemporary world. Following in the tradition of his father, renowned Soviet artist Leonid Steele, Alexey is a proponent of art as an active tool of social action and community engagement in a form of public art.
In collaboration with 501(c)3 Artward Initiative in 2017 Alexey Steele founded the non-profit Artward! Gallery "Scottsdale" to directly engage the most underserved community of Carson, California with his inspiring Love My Neighbor public art project. Alexey Steele and his public art project are credited by local activists and public officials for playing significant part in community turn around. Alexey Steele's Love My Neighbor public art project is instrumental in bringing attention and affecting the city policy toward "Scottsdale" neighborhood of Carson.
In 2018 in collaboration with Bank of America volunteer team and The City of Carson Alexey Steele conceptualized and launched Love My Neighbor Day centered around outreach programs of his Love My Neighbor public art project.
Alexey Steele's work participated in numerous museum exhibitions, was distinguished by being featured on museum banners as well as in two Rizzoli published books and was subject of multiple magazine and news paper articles.
Alexey Steele is a founder of critically acclaimed multidisciplinary Classical Underground project. He had contributed to "Soviet Impressionism" book by Dr. Vern Swanson. Alexey Steele is a winner of the 2009 Gusi Peace Prize in the Philippines and as part of celebration was received by the President of the Republic.
About Bohemian Society
The story of Bohemian Society begins on the streets of Brooklyn where experiential artist Victor Wilde cut his teeth and first shared with the world his work in experimental video and public performance art. Victor's interactive fashion performances and installations have appeared at the Brooklyn Academy of Music, Somos Gallery (Berlin), Tokyo Fashion Week, the Walt Disney Concert Hall (LA), LA Weekly's Artopia, and the OC Center for Contemporary Art.
It is from his art that The Bohemian Society label was borne in Downtown Los Angeles in 2003, where Victor continues to live and work.
The Bohemian Society collection is meant to excite and surprise. Each item of clothing, while worn, should inspire the same feelings you get from seeing powerful art. It strives to be thought-provoking and emotional and bigger than itself, reflective of something both hidden and essential about the world; enduring, but of its time.
Contact
Sculptoglyph
Olga Vlasova
310-710-7845
www.sculptoglyph.com
www.alexeysteele.com
www.lovemyneighbor.us

Contact