Mad Rocket: Fog of War – Pre-Registration Available Now
A new strategic mobile game, revealing war fog to sight battlefield; Pre-registration is available until global release on October 30, 2018; In-game items exclusively provided for pre-registered players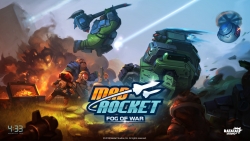 Seoul, Korea, South, October 16, 2018 --(
PR.com
)-- Publisher and mobile game developer FourThirtyThree Inc. (4:33) announced that pre-registrations for its new mobile strategy game, Mad Rocket: Fog of War is available on the Google Play Store. Pre-registered players will be provided with a variety of exclusive in-game items including 600 Gems, 200 Gas and 3 Rare Chests.
Developed by Ratatat Studio, Mad Rocket: Fog of War is a Player versus Player (PvP) strategy game which allows players to engage tactical battles and design bases tough to destroy. "Fog of War" is the unique feature of this game which allows players to try numerous strategic choices. Players cannot know what is placed on the opponent's base until they reveal the fog.
Several features are added up for more intense strategic game experience. Diverse weapons and units provide tactical choices for players to carry out multiple strategies. Players can use different kinds of units to break through enemy's defense by finding the most effective combination. Also, the tile-based map system gives the players a puzzle-like experience as they can freely design a base of their own.
Multiplayer options provide players opportunity to compete and cooperate with each other. Rank Seasons open monthly and allow players from all over the world to engage battles and increase their rank. Also, the game provides a cooperative community system. Players can cooperate with clan members by solving clan missions and share gameplay videos to interact with each other.
Mad Rocket: Fog of War will be released worldwide on October 30, 2018.
Contact
Dominic Moon
+8210-8987-3172

Contact