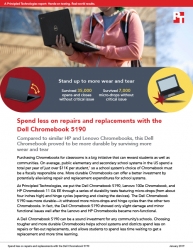 Durham, NC, January 18, 2019 --(
PR.com
)-- Many school systems are opting for Chromebooks in their classrooms. More durable Chromebooks can offer a better investment by potentially alleviating repair and replacement expenditures. PT put three Chromebooks—a Dell Chromebook 5190, an HP Chromebook 11 G6EE, and a Lenovo 100e Chromebook—through a series of durability tests featuring hinge cycles (opening and closing the devices) and micro-drops (from about four inches high). These are common things that students do to their Chromebooks throughout the school day.
According to the report, "The Dell Chromebook 5190 was more durable—it withstood more micro-drops and hinge cycles than the other two Chromebooks. In fact, the Dell Chromebook 5190 showed only slight damage and minor functional issues well after the Lenovo and HP Chromebooks became non-functional."
To learn more about how school systems can avoid extensive repair and replacement costs by choosing the more durable Dell Chromebook 5190, read the full report at
http://facts.pt/5wmb21h
.