Principled Technologies Releases Study Comparing Rack Server Management and Deployment Times with HPE OneView vs. a Manual Approach
In hands-on testing, Principled Technologies (PT) found that using HPE OneView to deploy HPE ProLiant DL380 Gen10 rack servers saved significant hands-on administrator time and effort compared to a manual approach.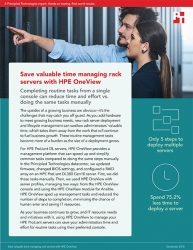 Durham, NC, December 17, 2018 --(
PR.com
)-- As the size of a datacenter grows along with business needs, routine deployment and management tasks take up an increasing amount of valuable administrator time. PT compared deploying HPE ProLiant DL servers manually vs. using the HPE OneView management platform to carry out the same tasks.
According to the report, "HPE OneView sped up management tasks and reduced the number of steps to completion, which minimizes the chance of human error and saves IT resources. As your business continues to grow, and IT resource needs and initiatives with it, using HPE OneView to manage your HPE ProLiant servers can save your administrators time and effort for routine tasks using their preferred console."
To learn more about how HPE OneView can help save time in the data center, read the full report at
facts.pt/jq9dfgo
, the executive summary at
facts.pt/wq10suu
, or the infographic at
facts.pt/g0i8hwa
.
About Principled Technologies, Inc.
Principled Technologies, Inc. is the leading provider of technology marketing and learning & development services.
Company Contact
Principled Technologies, Inc.
1007 Slater Road, Suite #300
Durham, NC 27703
press@principledtechnologies.com
Contact
Principled Technologies, Inc.
Jasmine White
919-941-9812
http://www.principledtechnologies.com/

Contact