European High Quality Extra Virgin Olive Oils Go to the Head of the Class! CEQ Italia and QVExtra! International Help Educate US Culinary Students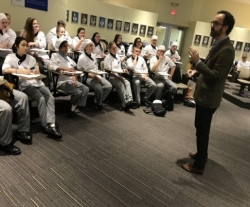 New York, NY, December 19, 2018 --(
PR.com
)-- In a series of training courses in Boston, Providence, and New York, extra virgin olive oil (EVOO) experts from the Spanish EVOO Association QVExtra! International and the Italian Consortium CEQ Italia demonstrated the key elements that distinguish the quality difference of premium European EVOO to nearly 200 culinary students. The EU supports ventures that promote high quality agricultural products.
Marco Petrini, president of Monini USA, Alfonso Fernández López, owner and founder of Sabor de España, and Natalia Ravida, president and owner of RAVIDA' Azienda Agricola, an Italian olive oil producer, conducted hands-on, educational tastings while explaining the growing, processing, and distribution of premium EVOO that makes the taste and wellness difference in a recipe's ingredients and cooking.
Mr. Fernández often tells audiences that the "biggest competitor to extra virgin olive oil is ignorance" and it resonates. Thus, education is a primary goal.
The EVOO Consortium discussed and presented their production methods and standards, benefits, and the role of extra virgin olive oil in the Mediterranean diet -- key elements in determining quality, how terroir influences flavor profiles, and how to cook with EVOO. Depending on the variety, the extra virgin olive oil has its own distinct character – fruity, sweet or bitter, with differing intensity of the spicy aftertaste. These extra virgin olive oils all have their own nuances, contrasts and flavors, but what they have in common is that their production has been closely controlled – from the flower to the bottle – with the main aim of providing the highest possible quality.
Ms. Ravida explains and educates JWU culinary students about what distinguishes high quality European EVOO.
Complementing the hands-on training courses that were enthusiastically embraced by all the seminar attendees, were two distinguished cooks who demonstrated their gastronomic prowess and expertise as part of these seminars: Italian Culinary Expert and Iron Chef America Judge, Mario Rizzotti, and Spanish chef Antonio Ortuño, who collaborated on a special menu that explored specific pairings; preparing several dishes each - using oils with a range of flavor profiles from mild to spicy.
Natalia Ravida offers JWU students high quality EVOO to sample and taste the fresh, pure flavor profiles of European extra virgin olive oil.
The students tasted the EVOO's, sampled the food prepared with the EVOO "green gold." The lessons were very interactive: culinary students and industry professionals had the opportunity to taste different European EVOOs that are part of the Consortium, taste dishes that the chefs prepared, and asked pertinent questions. Activities for all attendees included developing, implementing, and discussing their own recipes.
In addition, the culinary aficionados and students were asked to complete a questionnaire to evaluate their knowledge of basic facts before and after the training. Upon completion, each earned their own certificate of completion.
Cambridge School of Culinary Art (CSCA) is an iconic New England landmark, and for more than 40 years has been highly acclaimed among the nation's premier culinary schools.
The seminar at CSCA was held Monday, November 12 at their sunny, open kitchen and demonstration space with an enthusiastic and returning, loyal audience.
Johnson and Wales (JWU)
Johnson & Wales University is a private, nonprofit, accredited institution with more than 14,000 graduate, undergraduate and online students at its four campuses in Providence, Rhode Island; North Miami, Florida; Denver, Colorado; and Charlotte, North Carolina.
JWU hosted the training course on November 14th.
International Culinary Center (ICC)
Formerly known as The French Culinary Institute, the International Culinary Center© is a global leader in professional culinary, pastry and wine education. ICC's mission is to train the next generation of culinary leaders and innovators, providing them with the credentials, confidence and connections to succeed in the food & wine industry. With this mission in mind, they've partnered with the Olive Oil Times Education Lab to develop the Olive Oil Sommelier Certification program. This two-course certification program brings the world's foremost olive oil experts and educators together for courses spanning production, quality management, and advanced sensory assessment of olive oils and its application in gastronomy, culture, and health.
The training course for the culinary students was held Friday, November 16 - prior to the special media and influencer dinner.
Contact
Duchess Designs
Leeann Lavin
732-500-7121
http://gardenglamour-duchessdesigns.blogspot.com/
foodanddrinkny@gmail.com

Contact