High School Teen and Hip Hop Artist Partner Up to Help Raise Awareness Against Bullying and Teen Suicide in New Music Video, Living Inside the Rain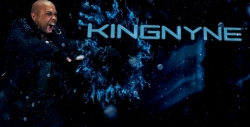 Miami, FL, January 03, 2019 --(
PR.com
)-- King Nyne, a local multi-award winning Hip Hop Artist has launched his new single and empowering music video
"Living Inside the Rain"
in hopes of raising awareness against teen suicide and the dangers of bullying.
George H. Lee, a 16 year old Florida high school student and founder of S.T.O.P. (Students Together Opposing Persecution), has spent spring and summer of 2018 coordinating and advocating local fellow high school teens to participate in this empowering video. Lee plays the main bully role in the music video, a role he says it was a challenge to play since he himself has been a victim of bullying.
"I found it difficult to play the role of someone who has so much hatred towards another person. I don't understand how anyone could try to hurt someone and ruin their life. Who does this? With every problem that presents itself in life, there are one million different ways for it to be resolved...violence isn't one of them," explained student George H. Lee.
All teens, teachers and school administrators that participated in the music video are real high school students and school staff, not actors. It was a project, motivated by Lee, performed by real people coming together for a cause.
Sharing this powerful message through the use of this inspirational music video, student George Lee and King Nyne have partnered up for 2019 as they tour schools and speak out against student violence and teen suicide.
This is as real as music gets!
About Artist King Nyne:
- King Nyne's pop single "Outta my head" was featured in MTV's Jersey Shore hit reality star JWoww's 2014 summer blockbuster "Jersey Shore Massacre."
- King Nyne's song "Outta my head" can be found on the Jersey Shore Massacre Soundtrack.
- King Nyne's music video "Outta my head" is featured as a special feature on the Blu-ray and DVD of the Jersey Shore Massacre movie.
- King Nyne' s pop music video also won the award for "Best Recording Artist" in 2015.
- King Nyne Hip hop/Rock mini movie music video "Make some noise" won 2 awards in 2017 at the wide screen film and music festival. One award for "Best Music Video" and one for "Best Special FX."
- King Nyne released his coast to coast 7 artist collaboration song "Oompa" June 2017 and hit over $1 million streams on Sound Cloud within 2 months of it's release.
- King Nyne's song "Oompa" also hit mainstream radio summer 2017.
- The sci-fi mini movie music video "Oompa" won 3 awards in 2018.
Best Music Video - Miami Sci-fi Convention
Best Recording Artist - Widescreen film & music festival
Best Music Video - Miami Web festival
Contact
MPOWER
Jenny Patrizia
305-305-0123
www.stopnow.me

Contact