President Electronics USA Introduces the "RICHARD" 10 Meter Radio
President's newest 10 Meter Radio ~ the "RICHARD"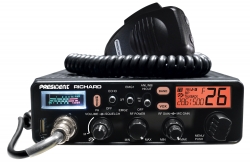 Naples, FL, January 07, 2019 --(
PR.com
)-- President Electronics, the worldwide leader of CB Radios, announced today the launch of their newest 10 Meter radio the "RICHARD" arriving in North America later this month.
The DIN sized RICHARD features a multi-function LCD 7 color display, built-in SWR Meter, Analog Signal Meter, USB Charging Socket, ASC, Scan, and more, at $179.00 retail.
The President brand is synonymous with advanced technology, quality, and prestige. As such, Consumers who purchase a President Antenna together with a President radio, will get a full five-year warranty on the purchase of their new radio. The full line of high end antennas, feature stainless steel, marine grade construction and comes with an unprecedented 10-year warranty.
Contact:
Phone: (239) 302-3100
Web: www.president-electronics.us
Email: info@president-electronics.us
Facebook: President Electronics USA
Twitter: @CB_President_US
https://president-electronics.us/CB-Radios-Ham-Radios/Ham-Radio-Transceivers/RICHARD
Contact
President Electronics USA
Kavi Sharma
(239) 302-3100
www.president-electronics.us

Contact
Multimedia
President's newest 10 Meter Radio ~ the "RICHARD"!