Barbara Goldberg Wins the 2019 Valentin Krustev Award for Translation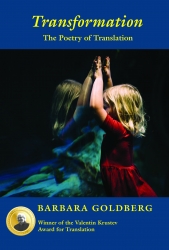 Uncasville, CT, January 09, 2019 --(
PR.com
)-- The William Meredith Foundation is proud to inaugurate The Valentin Krustev Award for Translation. This award includes publication of "Transformation" featuring Goldberg's exquisite translations of Israeli poets as well as some of the most lucid and insightful analyses of the art of translation. The collection is augmented by the paintings of Mark Patnode who recently returned from Israel to create a series of works depicting the landscape of the Holy Land. His Matisse-like paintings capture the light and beauty of the desert land burgeoning with life, the deep green of cedars, the impossibly cerulean skies. Transformation represents the happy synchronicity of two artists working at the peak of their powers translating a culture and people to reveal our shared humanity:
This beautiful and intimate anthology of poems of love and war offers a single poem by many of Israel's most gripping poets. Each poem is a world, translated with tenderness and tremendous skill. There is great diversity in ethnicity, background, age, and outlook - from Naim Araidi, who is Druze, to Shimon Adaf, who grew up in a family of devout Moroccan Jews - but there is always an engagement with elemental subjects: peace, fear, sea, lips, dreams, and speech. Those who ask why it is important for a poet to translate poets should look to Transformation for an answer.
- Aviya Kushner, author of The Grammar of God
Languages are living organisms, according to George Steiner. Barbara Goldberg, in Transformation, comes into her true landscape as she moves between languages, exploring the evolution of her restless and profound journey. At long last, she can call on her multiple resources - poetry and prose, humor and tragedy, life in this century cast in the shadow of "19th Century Vienna." The hidden memories of loved ones. "Even the dead" who "can't keep a secret."
- Myra Sklarew, from the Introduction
In "Transformation," Barbara Goldberg gives an engaging memoir of how she first entered the world of translation, growing up as she did amidst languages of Holocaust survivors, the challenges of translating poems that are faithful ambassadors of their originals, and marvelous transformations of modern Hebrew poems of love and war. A poet of distinction herself, Goldberg is also an editor who revels in the pleasures of bringing poetry of other languages into compelling English idioms.
- Merrill Leffler, author of MARK THE MUSIC
Without the essential talent for translation, we would never be able to shake hands across political and cultural barriers, a fact that was key for Valentin Krustev. William Meredith first met him in 1978 when Valentin had been assigned to visiting dignitaries as a member of the translator's union during one of the international writers' meetings, Peace the Hope of the Planet. Valentin remained an extraordinary friend to hundreds of visitors to Bulgaria right up until his premature death this past year in Sofia. This award hopes to continue his legacy and thank him for that friendship which meant so much to so many.
Contact
Poets Choice Publishing
Richard Harteis
860-961-5138
www.poets-choice.com
www.WilliamMeredithFoundation.org
poets-choice.com

Contact