Author Shares a Deeply Personal Story About His Depression, Attempted Suicide, Loneliness and Incel Thoughts in a New Book to Promote Men's Mental Health Issues
To help fellow men feel comfortable sharing their mental health issues, a new book exposes the turbulent life of one man who had previous mental illness.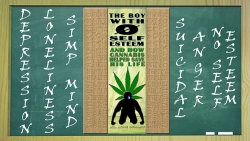 Toronto, Canada, January 16, 2019 --(
PR.com
)-- With Blue Monday on the horizon, many men worldwide will find themselves feeling depressed and alone. Unfortunately, far too many of them will not say anything about their feelings due to the stigma that still surrounds talking about men's mental health. A new author hopes the release of his personal memoir, "The Boy With Zero Self-Esteem and How Cannabis Helped Save His Life" will help fellow men see the value in opening up about their personal struggles.
"The Boy With Zero Self-Esteem and How Cannabis Helped Save His Life," written by an author who goes by the pen name Aone Ofmany, showcases a three decade's long journey of a man who endured crippling depression and practically no self-esteem. Aone reveals how he started off as a young happy child, but due to living in an ultra-strict authoritarian household and enduring constant ridicule and rejections in high school related to his physical appearance and "nerdy" demeanor, he descended into anger, resentment, loneliness, depression and even an incel mindset.
During the first half of the book, readers discover how this unassuming young man tried to commit suicide by hanging himself, had multiple mental breakdowns and at one point thought about killing two people who made him feel ugly and unimportant. The book attempts to reveal how a normal kid can transcend into ill mental health and self-hate with each negative experience encountered.
Aone spends the second half of the book explaining how he overcame his dangerous downward mental illness spiral soon after suffering a devastating emotional breakdown in his mid-20. Aone was able to combine his enjoyment of recreational cannabis with intense meditation and creative thinking to find calm whenever he felt his emotional state was wavering.
"This raw journey through my life's progression is meant to show other men, who remain quiet about their pains, that it's ok to open up and share," states Aone. "I know that the stigma is still out there for men to just 'suck it up and man up,' but if a normal guy with an insane past like mine can be this open and comfortable sharing, maybe others will see there is no need to remain silent."
The author chose the pen name Aone Ofmany as a way to reflect how ordinary he is, compared to being a lamenting rich and/or successful celebrity, doctor or politician. He wants readers to know he could be any man out there just trying to keep it together for the sake of his family in the everyday hustle of life.
"The Boy With Zero Self-Esteem and How Cannabis Helped Save His Life" is published by Zelpha Comics and Publishing Ltd. and is available in both ebook and paperback formats on multiple online bookseller platforms like Amazon, Barnes and Noble, Google Play and Smashwords. Only the paperback contains comic book artwork Aone created in grade 7 to deal with his past anger issues. A recently launched Zelpha Comics and Publishing YouTube channel features weekly videos about subjects covered in the book as they relate to society today (https://www.youtube.com/c/ZelphaComicsandPublishing).
"Men need to stand up and feel free to share their pain without fear of condemnation or ridicule – it's our turn now to reveal what hurts us so that we can truly 'man-up' together with pride and confidence." - Aone Ofmany
Contact
Zelpha Comics
L.A. Nuwame
647-407-2614
https://www.youtube.com/c/ZelphaComicsandPublishing
http://www.zelphacomics.com
https://www.amazon.com/Boy-Zero-Self-Esteem-Cannabis-Helped/dp/1729821146/

Contact