Abrahamic Reunion England Promotes Peace with Apparel in Run Up to World Human Spirit Day
Using t-shirts, sportswear, work wear and other accessories, we can all create more peace and harmony and creativity in our lives. All Peace Gifts Shop goods have a beautiful image or message.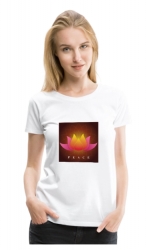 London, United Kingdom, January 25, 2019 --(
PR.com
)-- What are the qualities which come from being at peace? They include hope, awareness, contentedness and creativity - qualities which will be celebrated on World Human Spirit Day, taking place on Sunday, 17th February.
On the day, people all over the globe will take two minutes of silence at 3 pm Eastern Time for meditation. World Human Spirit Day organizers intend that the meditation session will help participants to find "the true spirit of freedom and peace" within themselves.
The Abrahamic Reunion England, the organisation which promotes harmony in a multi-faith society, has chosen the run up to World Human Spirit Day to highlight the growing body of evidence which points to the power of the mind when it is at peace.
The group has highlighted the findings of psychologist Dr. Graham Davey, a media violence specialist, who concluded that violent media exposure can contribute to conditions such as depression, stress and anxiety. They have also pointed to the words of physicist Albert Einstein, who stated that "the monotony and solitude of a quiet life stimulates the creative mind."
Abrahamic Reunion England has used the opportunity to showcase the product range in its Peace Gifts Shop - which can be found at www.peacegifts.shop.
These include items which typically feature a quote about peace from influential poets and authors from around the globe. The peaceful phrases and images which are seen on products such as mugs and t-shirts can help World Human Spirit Day participants to achieve a calm state of mind ahead of World Human Spirit Day.
Michael Kenton, trustee of Abrahamic Reunion England said: "To quote Eckhart Tolle, 'silence is where creativity and solutions are found.'"
Contact Michael Kenton michael@vakilkenton.com
Cell +44 (0)7970 000 895
Contact
Abrahamic Reunion (England)
Michael Kenton
0044(0)7970000895
www.abrahamicreunionengland.org

Contact