Hans Kaspersetz Joins Digital Pharma West Advisory Board
Digital Marketing Thought Leader to Help Craft Agenda for Leading Healthcare Marketing Conference.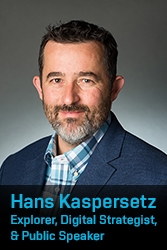 Summit, NJ, January 25, 2019 --(
PR.com
)-- "Exploring the boundaries of the possible" is a core theme that drives Arteric, an award-winning healthcare digital marketing agency in Summit, New Jersey. It also helps explain why for 2 years, Arteric has been leveraging artificial intelligence solutions to help their pharmaceutical and biotechnology clients connect healthcare professionals and patients with life-changing information.
Pushing boundaries and making disruptive digital technology practical for marketers across the healthcare delivery spectrum also are central to the discussions at Digital Pharma West, one of the healthcare marketing industry's most eagerly anticipated conferences. To ensure that audiences will be prepared to adopt and integrate emerging digital marketing trends and technology, the organizers of Digital Pharma West have asked Arteric President and Chief Strategist Hans Kaspersetz to join their advisory board.
Jayson Mercado, head of digital events for ExL Events and lead organizer for Digital Pharma West, comments, "We're looking forward to having Hans on this year's Digital Pharma West Advisory Board. The Advisory Board is comprised of leaders in the world of digital pharmaceutical marketing: specifically, executives from the pharma and biotech industries, as well as the agencies that partner with them. This year's Board meeting will be held at Novartis' Biome Health Innovation Lab in downtown San Francisco. The setting will make for an inspiring venue for Hans and the Board to share their latest and greatest successes in an effort to shape the content, format, and overall discussions that will happen in June at Digital Pharma West.
Hans has participated as a speaker at Digital Pharma meetings
for years, so we're lucky to have someone with his expertise helping the team chart the course for the year."
Mr. Kaspersetz looks forward to collaborating with digital thought leaders and Digital Pharma West to evolve this year's agenda. "The opportunities and challenges that digital technology creates for healthcare marketers are unprecedented," states Mr. Kaspersetz. "As a member of the Advisory Board, I can help ensure that we stay focused on the four pillars of digital marketing - digital nonpersonal promotion strategy, advanced technologies including artificial intelligence and machine learning, drama-free value delivery and production, and data science and analytics - while keeping the end users' experience at the center of our world. It is my honor to join the esteemed board, and I look forward to contributing my experience."
Learn more about Digital Pharma West at http://www.digitalpharmaseries.com/west.
Work With Arteric
For 2 decades, Arteric has helped pharmaceutical brands, biotechnology brands, and healthcare organizations transform leading-edge technology into competitive advantage. Contact Hans Kaspersetz at 201.546.9910 to advance your brand with personalized marketing solutions that work everywhere, every time.
About Arteric
Arteric is a pharmaceutical and biotechnology digital marketing agency renowned for its expertise in digital brand strategy, software engineering, data, search engine optimization, search engine marketing, CRM, and analytics. Arteric is the digital agency that will propel your clinical trials recruitment, premarket shaping, disease state education, brand launch, or brand revitalization forward with digital insights and execution that cannot be matched.
Contact
Arteric
Daryn Henry
201.546.9910
https://arteric.com

Contact