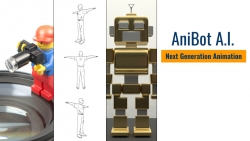 Anaheim, CA, January 29, 2019 --(
PR.com
)-- New tech company, AniBot AI, applies AI and deep learning technology to modernize the production process for the global animation industry that is expected to be valued at $270 billion by 2020.
With the global popularity of streaming services, media and gaming companies have been trying to keep up with consumer demand. In 2018, the streaming market was $2.9 billion and the global video gaming industry was $96 billion according to Research and Markets. To address this industry supply and demand challenge, AniBot is harnessing the power of people as the foundation for the next generation of animation.
Together with animators, VFX artists and data scientists, AniBot is curating unique knowledge about each step of the animation production process. This knowledge is shared with AniBot to automate the process and create the world's first animation machine that reduces costs, boosts performance and enables the creation of more diverse content.
AniBot is more than an animation machine. AniBot is a gallery for professionals and amateurs in the animation industry to showcase their signature styles, techniques and skill sets. AniBot is part machine, part professional network.
AniBot's mission is to help propel the animation industry forward into the next generation of automated animation. We seek to improve and expand the industry so animators and artists can create more content for people to enjoy around the world.