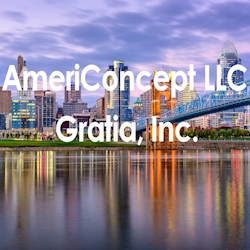 Cincinnati, OH, February 05, 2019 --(
PR.com
)-- AmeriConcept Consulting, LLC, a well-established CPA firm (licensed in KY and ND) and provider of SAP Consulting services, and Gratia, Inc., a premier, West Chester based IT Data Security and Compliance services provider, announced today that they have established a strategic partnership for joint services delivery between the organizations.
In today's IT and business world, the absolute compliance mandate in areas like SOX/SSAE18, NIST 800, ISO 27001 or PCI-DSS, is getting more and more complex along with demands in cybersecurity and forensic accounting. Responding to those challenges requires IT and Finance departments to work closely together, however there are only a few services organizations capable of addressing the requirements holistically:
AmeriConcept and Gratia fulfill this need of their customers by delivering IT Compliance, IT Data Security, Compliance, Accounting, CFO and CIO services out of one hand, allowing their customers a "one-stop shop" approach for today's most pressing topics in the IT and Financial world.
"AmeriConcept has been providing global CPA and SAP consulting services for over 18 years now and with our partnership with Gratia, we are finally able to address a much broader compliance and services area for our customers," said Martin Reichl, CPA & President of AmeriConcept, LLC.
Thomas Runge, Managing Partner at Gratia, Inc. added, "I am very excited about the collaboration agreement - the decision to tighten the partnership with AmeriConcept will allow us to provide holistic services in the IT and Business/Financials compliance areas that our large competitors simply cannot offer at prices that our Small to Medium sized customers can afford."
Wayne Kiphart, Managing Partner at Gratia commented, "Both AmeriConcept and Gratia focus on service quality and the success of our customers. Adding our holistic compliance and IT data security service coverage, that is why this partnership is beneficial to our customers."
About:
AmeriConcept Consulting, LLC
201 E. Fifth Street, Suite 1900
Cincinnati, OH 45202
www.AmeriConcept.com
+1 (513) 238 1454
mrl@americoncept.com
Global Accounting Services
Corporate Taxation
Audit
SAP R/3, S/4HANA & SAP Business One
Gratia, Inc.
300 E Business Way, Suite 200-2171
Cincinnati, OH 45241
www.Gratia-Inc.com
+1 (513) 800 0660
info@gratia-inc.com
IT Managed Security and Compliance
CIO Advisory
IT Service Management
Private Equity Services