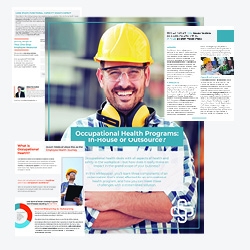 The Woodlands, TX, February 27, 2019 --(
PR.com
)-- Axiom Medical, a leading incident case management and occupational health services provider in North America, announced today the release of its latest whitepaper, "
Occupational Health Programs: In-House or Outsource?
" The publication addresses the three most common problems employers run into when managing occupational health in-house, which can lead to:
· Inaccurate injury reporting,
· Excessive lost time/absenteeism and turnover, and
· High workers' compensation claims.
However, outsourcing occupational health solves these challenges head-on (without using valuable in-house resources) by providing a strategic approach to total employee health.
The right occupational health strategy allows you a preventative approach to:
· Boost productivity with a healthy workforce,
· Reduce absenteeism with an expedited Return to Work Program,
· Reduce the amount of lost time and OSHA recordable outcomes with early (and often) testing.
The publication is authored by Sean Crawford, who has a background in insurance and is passionate about employee health, best practice incident case management and occupational health services. Sean currently serves as the Sales Process and Training Manager for Axiom Medical.
You may download a free copy of "Occupational Health Programs: In-House or Outsource" through the following URL:
https://info.axiomllc.com/Occupational-Health-Programs-In-House-or-Outsource
?
About Axiom Medical
Founded in 1999 and headquartered in The Woodlands, TX, Axiom is a market leader in the occupational health sector in North America, with unrivaled service quality and a very strong return on investment for clients in the USA, Canada and Mexico. For more information, please visit the company's website at
https://www.axiomllc.com
.