Tonia DeCosimo Showcases the Innovative Joy Mangano for the Spring 2019 Issue of P.O.W.E.R. Magazine and powerwoe.com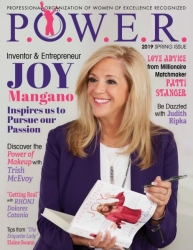 Manhasset, NY, April 04, 2019 --(
PR.com
)-- Tonia DeCosimo, founder and editor-in-chief of P.O.W.E.R Magazine is proud to showcase Joy Mangano, an amazing and innovative woman, on the cover of the spring issue of P.O.W.E.R. Magazine (Professional Organization of Women of Excellence Recognized) and powerwoe.com. With almost 20 years of successful sales, a best-selling novel, and a movie based upon her life, Joy Mangano is someone that every woman aspires to be: a self-made millionaire. She is, first and foremost, an American inventor known for such products as the Miracle Mop, Huggable Hangers, and the Forever Fragrant line.
About Joy Mangano
Born on Long Island, New York in 1956, Joy Mangano earned a B.A. in Business Administration from Pace University. After college, Joy got married and had three children. By 1989, she was divorced and taking out her frustration on housework, particularly mopping. Joy found that she absolutely hated constantly getting dirty mop water on her hands while cleaning. She spent a few years developing a completely new mop concept and, in 1990, Joy created a prototype. She had 100 of them made after saving and borrowing $100,000 towards the development of the Miracle Mop.
Through advertising and personally selling to local businesses, Joy sold a few thousand mops the first year, with her children helping her fill the orders. In 1992, she pitched the Miracle Mop to QVC executives. It was given a slot without Joy, and sales were underwhelming to say the least, so she suggested that if she appeared on the broadcast herself, the mop would sell. Her first appearance on QVC helped the Miracle Mop sell out. They sold more than 18,000 mops in less than thirty minutes. That initial appearance set the standard and she has since sold millions of mops and created a variety of other products including the Rolykit, Huggable Hangers, Forever Fragrant and the Piatto Bakery Box.
In 1999, Joy sold her company, Ingenious Designs, to the parent company of the Home Shopping Network (HSN). Fifteen years later, the biopic movie "Joy" was released and has earned two Golden Globe Awards, one Oscar nomination and numerous other awards. The national bestselling novel "Inventing Joy" was released in 2017. Joy takes her readers through her inspirational rags-to-riches story and points out the hard lessons she learned along the way.
To give a hand up to women who are struggling, Joy has established The Joy Mangano Foundation which has established a partnership with Rising Tide Capital, a nonprofit organization. For over a decade, Rising Tide Capital has been working to empower many first-time entrepreneurs and single mothers to use their creativity and talents so they too can build businesses that transform their lives and the lives of those around them. They provide full scholarships for entrepreneurs to attend their nationally recognized business management training curriculum, and they provide on-going support as their entrepreneurs turn their dreams from ideas to reality. Through this partnership, Joy continues to mentor and consult with entrepreneurs and continues to make a difference in women's lives.
Other Amazing Entrepreneurs Featured in the Spring Issue of P.O.W.E.R. Magazine
The spring issue of P.O.W.E.R. Magazine is brimming with articles about many amazing women entrepreneurs who, through hard work and passion, have turned their ideas into successful ventures. Judith Ripka is an amazing jewelry expert and designer. Trish Regan is the host of Trish Regan Primetime on the Fox Business Network, moderated the inaugural Republican presidential primary debate in November 2015 and contributes regularly to the network's special live programming to include the 2016 presidential election, the 2017 gubernational elections, and the 2018 State of the Union address. Trish McEvoy, a makeup artist known for teaching the power of makeup, has created some of the best makeup brushes and tools to make every woman look beautiful. Patti Stanger, a third generation matchmaker, has devoted her life to helping people find love through her reality television show The Millionaire Matchmaker and as an author. Dolores Catania is an entrepreneur who owns multiple fitness centers and is a busy mother to her children and her rescue pets, as well as one of the Real Housewives of New Jersey. Laura Wasser is a renowned divorce attorney to the stars and author, who created "It's Over Easy" which is an online divorce platform to guide you through every aspect of your case and make it easier to navigate through a divorce without breaking the bank. Lavinia Errico is one of the founders and visionaries behind Equinox Fitness Clubs that help transform people's lives both physically and mentally. Elaine Swann, known as the "Etiquette Lady," is the owner of the Swann School of Protocol and is the go-to person for everything etiquette. Kym Douglas is a television host, beauty, fashion and lifestyle expert, best-selling author, and comedy actress, as well as a breast cancer survivor. Heidi Powell is a trainer, transformation specialist, devoted wife, mother of four, savvy businesswoman, author, nutrition nut, and overall health guru who became a fixture in America's living room on ABC's hit show, "Extreme Weight Loss."
In addition, P.O.W.E.R. Magazine's spring issue is chock full of articles about their amazing members who are hard working women that are successful in their varied industries and professions through their passion and dedication.
For further information, contact
www.powerwoe.com.
About P.O.W.E.R. Magazine (Professional Organization of Women of Excellence Recognized) and powerwoe.com
P.O.W.E.R is an online community as well as a digital and exclusive print magazine featuring celebrities and everyday hardworking professional women. Our mission is to provide a powerful network of empowering women who will mentor and inspire each other to be the best they can be. Through our valuable services, our members can network, collaborate with like-minded professionals, gain recognition and obtain knowledge from those who have already achieved success.
Contact
P.O.W.E.R. (Professional Organization of Women of Excellence Recognized)
S. K. Koop
516-365-3222
www.powerwoe.com
Ellen Gold

Contact