US Sanctions on Iran, a Direct Hit on the Persian Rug Industry, Says Damoka LA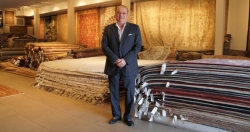 Los Angeles, CA, March 12, 2019 --(
PR.com
)-- On August 6th, 2018, the United States said it would be reimposing economic sanctions against Iran; sanctions that were lifted under a 2015 nuclear accord. The 2015 resolution opened the Iranian market to free trade, creating an international boom in Iranian commodities, most notably its hand-woven carpets, sending out over $150MM million worth of Persian Rugs from the country throughout 2016 and 2017 according to a Washington Post report.
In 2017 alone, Iran exported over $126mm worth of Persian rugs to the United States alone, according to a separate report by Al Jazeera; an export that now ceases to exist. According to The Office of Foreign Assets Control, a division of the Treasury Department, all U.S. rug dealers were forced to wind down their Iranian imports by its August 6th reinforcement date. These US companies, many of which are family owned and in business for half a century are no longer allowed to import Iranian-made rugs; including importing the Persian product from other countries. In short, the recently imposed sanctions are not just a means to block a solid Iranian revenue stream, creating economic hardships for an already distressed country, but these sanctions are making their way home, putting longstanding United States businesses out of business.
A less talked about by-product of these sanctions are that many Iranian American citizens will struggle to hold on to the values passed on to them by their parents, families and communities; additionally, other parts of the world, including the United States will never be able to experience these cultural and artistic masterpieces; unnecessarily lost to time and politics.
Directly impacted by the sanctions, and closing shop after 30 years in business, Alex Helmi, CEO of Damoka recently stated, "The rugs are recognized around the world as a form of art and part of Iran's cultural identity. It saddens me, that after all these many years serving the city of Los Angeles, I can no longer share these masterworks with my American brothers and sisters." Damoka LA specializes in the art of fine antique, vintage, and new rugs; they are the largest wholesaler of Persian rugs in the United States. It has taken over 150 years of experience and three generations of family history to gather their remarkable collection.
If you are in the market for a genuine Persian rug, now is the time to buy as sanctions devastate this beautiful yet vulnerable art. As uncertainty surrounds the future of US/Iranian relations, Persian rugs from Iran may not be available for a time. According to an Associated Press report By Amir Vahdat and Mohammad Nasiri, the livelihoods and tradition of an estimated 2 million people, like Alex Helmi of Damoka LA, involved with the Persian rug trade are being severely impacted.
Alex Helmi has long been known as an expert in the field of Fine Antique, Vintage, and New Rugs. He has decorated over 5,000 residential and commercial spaces. Having moved to Los Angeles at the mere age of 18, Alex began diving into the world of Persian carpets. He attended University to study Interior Design. Alex is a third-generation rug dealer. Furthermore, his family has over 150 years of experience in the rug business. Over 40 years later, Alex's love for the art of fine rugs has taken him all around the world. He has left a lasting impression on Persian Art and Culture in Los Angeles. He has received numerous awards from Council-Members, County Supervisors, the State Senate, the State Treasurer, and the Mayor. Alex has been interviewed by LA Times, NPR, Reuters, MarketPlace, New York Times, BBC, Time of Israel, among many others.
Contact
KAM
Amanda Na
(323) 696-2139

Contact