Arteric Guides Healthcare Marketing Leaders on Practical Applications of Artificial Intelligence (AI) to Uncover Unmet Customer Needs
Two Case Studies Illustrate the Impact of AI on Accelerating Business, and the Insights That Result.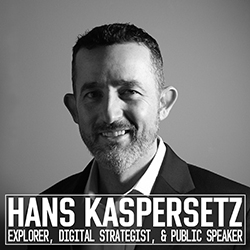 Summit, NJ, March 04, 2019 --(
PR.com
)-- In 1962, Stanford University's internationally renowned Artificial Intelligence Laboratory began developing artificial intelligence (AI) solutions.
In 2019, on February 21, practical applications of AI to better understand consumer healthcare expectations were discussed on the Stanford campus during the conference titled "Future of Customer Engagement." This gathering of marketing leaders from pharmaceutical, biotechnology, and healthcare organizations provided the backdrop for Arteric President and Chief Strategist Hans Kaspersetz to share how Arteric has been leveraging AI to discover unmet audience needs and other insights that are invisible to conventional market research.
Mr. Kaspersetz illustrated the accelerating rate of change in anecdotes from his exploration projects and the practical applications of AI in 2 case studies in his presentation, "
AI — Super Hearing for Healthcare Marketers. Detecting Weak-but-Important Signals of Customer Behavior
." The first case study described how Arteric helped a blockbuster prescription brand uncover the opportunity to more effectively connect with its target audience and tell a richer story. These insights led to a 202% year-over-year growth in traffic. The second case study is for a well-known OTC cold, cough, and allergy brand that uncovered a new target audience that contributed to the brand exceeding its targets two years in a row. Arteric's work with AI was featured in the May 2018 issue of MM&M — Medical Marketing and Media.
Future of Customer Engagement is the latest conference in the Life Science Leader Summit (LS2) series organized by Arsenal Advisors. LS2 events are renowned for exceptional levels of meaningful and transformational dialogue. As Mr. Kaspersetz describes, "The discussions at Future of Customer Engagement were remarkable for their depth of thought and for the breadth of industry expertise represented in every session. The intimate, highly interactive sessions inspired conversations that contextualized how we can connect with patients, payers, and healthcare professionals in ways that would have been impossible only a few years ago."
Frank Dolan, CEO of Arsenal Advisors, organizers of Future of Customer Engagement, shared these thoughts on the impact of Mr. Kaspersetz's session. "The Life Science Leader Summit uniquely provides a private forum of executive peers to discover solutions to the industry's biggest problems. It was only appropriate to have the life science industry's thought leader on AI, Hans Kaspersetz, leading our discussion at Stanford about the gap between where biopharma marketing is today and where it needs to be."
Mr. Kaspersetz shared these observations on the evolution of AI in healthcare marketing. "AI is steadily moving from the fringes of campaign practice toward the center. But guidance to make wise choices regarding when and how to apply AI is lacking. Two years of applying AI to support our clients has enabled us to identify the business problems appropriate for an AI solution and to define the elements of success for marketing teams. And, the beauty of sharing insights at an LS2 event is that audience commentary provides perspective that enhances Arteric's focus and creates a new context for all attendees. Frank is a remarkable organizer and always brings together a world-class group of thought leaders. It's one of the many reasons I'm grateful to partner with Arsenal Advisors and Frank Dolan. I look forward to contributing at future events."
Work with Arteric
For 2 decades, Arteric has helped pharmaceutical brands, biotechnology brands, and healthcare organizations transform leading-edge technology into competitive advantage. Contact Hans Kaspersetz at 201.546.9910 to advance your brand with personalized marketing solutions that work everywhere, every time.
About Arteric
Arteric is a pharmaceutical and biotechnology digital marketing agency renowned for its expertise in digital brand strategy, software engineering, data, search engine optimization, search engine marketing, CRM, and analytics. Arteric is the digital agency that will propel your clinical trials recruitment, premarket shaping, disease state education, brand launch, or brand revitalization forward with digital insights and execution that cannot be matched.
Contact
Arteric
Daryn Henry
201-546-9910
https://arteric.com

Contact