Buzz Pop Cocktails Goes Green with New Biodegradable Push-Pops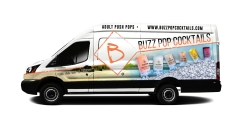 Tampa, FL, March 18, 2019 --(
PR.com
)-- Buzz Pop Cocktails, the world's first and only Adult Push-Pop is pleased to announce that it is going Green with a new and improved fully biodegradable plastic Push Pop. "We believe it is important to do our part in helping to save the planet," says CEO Joseph Isaacs. This change should go into effect with products manufactured after May 1, 2019. They always strive to be the best at what they produce and to continue to make Buzz Pops a fun and healthy experience for customers. Buzz Pops has succeeded in creating the best Italian sorbet west of Italy made with premium spirits. The flavor pallet has been improved substantially.
By adding Biodegradable plastic to their arsenal, it will enable Buzz Pop Cocktails to continue to grow their theme park, water park, hotel, special events and export markets. It will allow them to be present with companies that don't allow standard single use plastics, such as cruise lines.
Buzz Pops has a patent pending on its processes and methodology to freeze alcohol in sorbets at higher levels than anyone else has been able to do. Most competitors are in the 3-5% range while Buzz Pops is 3-5x that. Some of the exciting flavors launching early 2019 include a Belgium dark Chocolate Raspberry Sorbeto made with premium bourbon and a Peach Prosecco for the champagne lovers out there.
The Buzz Pops team is available for major events on the east coast. Buzz Pops will have a huge presence at the new Greater Fort Lauderdale Food & Wine Festival, Grand Tasting, on March 23, 2019. Buzz Pop Cocktails has recently expanded into arenas in California & St. Louis. MLB will be better this year with Buzz Pops. In addition, they have added such prominent hotel brands to include the Godfrey in Chicago and original Peabody in Memphis with so many more to come this year. Buzz Pops were just recently served at the pro golf tournament at the TPC Sawgrass in Ponte Verde Beach.
Since the summer of 2018, Buzz Pops has been featured in Food & Wine, Travel & Leisure, Dating Advice, Thrillist, Delish, Pop Sugar, Kitchen, Insider Food, Her Campus, Ali World, Food & Drink, Chilled Magazine, Walt Disney World News, Fox & Friends and Liquor.com to name a few. Buzz Pops also had the pleasure of co-branding products for global brands like Zappos, MGM Properties, Cosmopolitan, Caesars Entertainment and the Waldorf Astoria.
About Buzz Pop Cocktails:
Buzz Pop Cocktails is the only ready-to-serve, all natural 100% fruit, authentic gourmet Italian sorbet made with a full shot top shelf liquors. Buzz Pops only serves their customers a high-quality, all-natural frozen specialty sorbet. It's an "Indulgent premium cocktail with a healthy twist" delivered in an old-fashioned, see through push pop. Distribution plans include major music festivals, theme and water parks, franchises, cruise lines, major sporting arenas, pro gold tournaments, export as well as global licensing agreements into the Pacific Rim, Australia, China, Europe and Mexico markets.
Contact
Buzz Pop Cocktails
Joseph Isaacs
727-275-9848
www.buzzpopcocktails.com

Contact