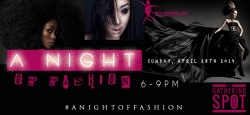 Atlanta, GA, March 18, 2019 --(
PR.com
)-- I Will Survive, Incorporated announced today the launch of a new partnership with The Gathering Spot for the 8th Annual Gala: A Night of Fashion where Health meets Fashion on the Runway. The annual event has been held all over Atlanta at some of the most prestigious venues, some overlooking Atlanta's impressive skyline. This year is significant at the new "next-generation private-membership club" with members from as young as 23 years of age to as senior as 87 years of age. The Gathering Spot includes members like Rapper and Community Advocate, T.I., Anisa Palmer, Founder and Executive Director of I Will Survive, Inc., Civil Rights Leader and Former Mayor for the City of Atlanta, Ambassador Andrew Young and many more. The Gathering Spot was founded in 2016 by Ryan Wilson and TK Petersen and they will be opening new locations in Washington, D.C. and Los Angeles in 2019.
The Gala is set for April 28th with a new line up of Atlanta's top fashion designers showcasing their fashion with breast cancer survivors joining additional models to rip the runway. The Gathering Spot hired new Executive Chef Carlos Brown who has members excited about the menu and attendees of the Gala eager to taste the food. The Gathering Spot has been featured in Atlanta Magazine, Inc., AJC, Forbes, Billboard, USA Today, Atlanta Tribune, Black Enterprise, Atlanta Business Chronicle, Ebony, The Root, 11Alive, and so much more.
"I always wanted to be a model," says Wylma, breast cancer survivor after she modeled in the fashion show in 2018 wearing designs by Bramer Leon Couture with hair and makeup sponsored. Modeling in the fashion show boosts breast cancer survivors' esteem and confidence post-surgery. Wylma was a past recipient of services through treatments after losing her job shortly after being diagnosed as a single mother of four.
Contact the Events Team (contact@iwillsurviveinc.org or 404.483.8503) for more details on how to become a sponsor of the event, place an item in the silent auction, become a vendor, sponsor gift bags for survivors or VIP guests, or purchase tickets.
About I Will Survive, Inc. (IWS) headquartered in Doraville, GA with working space in Atlanta, GA, at The Gathering Spot. IWS has a mission to provide prevention education, economic support, and health and wellness services to those at higher risk and affected by breast cancer. This nonprofit organization, established in 2010, is incorporated in Georgia. For more information, please go to
www.IWillSurviveInc.org