R-T Specialty, LLC's National Environmental and Construction Professional Liability Practice (ECP) Unveils 2019 Market Update
Annual Recap Details Environmental & Construction-related Professional Liability Insurance Trends, Conditions & Forecasts.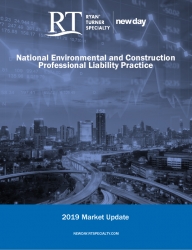 Hamilton, NJ, April 03, 2019 --(
PR.com
)-- RT's ECP, a leading specialty resource for environmental and construction-related professional liability coverages, has released its 2019 Market Update. This annual recap represents the collective knowledge of the company's expert specialists and the trends driving change, innovation and growth in this complex niche marketplace.
The 2019 Market Update explores specific trends and conditions for environmental and construction-related professional liability coverages in the areas of Contractor's Pollution Liability (CPL), Pollution Legal Liability (PLL), General Liability/Pollution Legal Liability (GL/PLL), General Liability/Contractor's Pollution Liability/Professional Liability (GL/CPL/PL), Architects & Engineers (A&E) Professional Liability, Contractor's Professional Liability (CPrL), Owners Protective Professional Indemnity (OPPI) and Real Estate Developers (RED) Professional Liability.
"The 2019 Market Update offers in-depth insights into the highly specialized environmental and construction-related professional liability field and the analysis necessary for making sophisticated purchasing decisions," says Jeff Slivka, President, National Environmental and Construction Professional Liability Practice. "We are dedicated to coupling the industry's most talented people with a deep knowledge of the commercial insurance marketplace. Each year, the Market Update summarizes these efforts in a brief but detailed report that provides up-to-date information on the conditions and strategies needed to protect against costly delays and the occurrences that can derail projects and even entire companies."
The 2019 Market Update details the latest updates on rates, capacity and claims information; buying motivators; and underwriting forecasts surrounding each product. For 2019, our ECP specialists foresee a generally stable market providing abundant offerings, expanding terms and consistent premiums for both project and practice programs. In other specific areas:
--Although the frequency of claims is expected to rise in the coming year, 2019 is likely to bring continued CPrL coverage expansions and competitive rates, provided the insured remains static
--The frequency and severity of PLL claims are expected to increase during 2019 as witnessed by the growing number of seven- and eight-figure claims that plagued the hospitality, habitational, healthcare and energy sectors in 2018
--Recognized for its ability to provide the real estate industry with broader solutions than previously available, RED Professional Liability will increasingly become a more mainstream buy for real estate developers and construction applications
--A&E PL claims per construction dollar spent should remain steady but the overall amount of litigation is likely to increase in step with the economy. This, combined with stagnant rates, could spell hardship for some carriers carrying smaller or less mature books of business, while affording advantages to more established markets
--GL/PLL remains strong due to the increasing number of insureds seeking coverage for unique or unusual exposures that are not readily available in the traditional marketplace. These include products pollution, sudden and gradual site pollution, and situations where exposures may straddle over several lines of coverage.
To view the entire 2019 Market Update please
click here
or feel free to reach the company directly at newday.rtspecialty.com or 609-298-3516 for more details.
RT New Day, a division of R-T Specialty, LLC, is a specialty resource for agents and brokers, assisting them and their clients find appropriate, high-quality environmental and construction-related professional liability insurance coverages. RT New Day offers agents and brokers single-point access to an ample portfolio of products and services provided by the nation's largest environmental and professional liability insurance providers. In California: R-T Specialty Insurance Services, LLC License #0G97516. For more information please visit newday.rtspecialty.com or call 609-298-3516.
Contact
RT New Day
William Chelak
732-541-2971

Contact