VOS Digital Media Group Announces Heather Binnie as Executive Vice President, Head of Global Partnerships
VOS Expands Executive Leadership Team with Appointment of Executive Vice President, an Experienced Veteran in the Digital Media Space.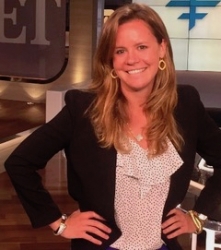 New York, NY, April 11, 2019 --(
PR.com
)-- VOS Digital Media Group, Inc. (
www.VOSDMG.com
), a global media technology company, announced today it has appointed Heather Binnie as Executive Vice President, Head of Global Partnerships effective immediately. Joining VOS during a period of rapid growth and development, Binnie brings leadership experience and expertise from her prior roles as Business Development Manager, Content Strategy and Acquisitions at Verizon and previously at CBS Television Distribution during the transition to digital television.
"During our extensive search for a EVP, Head of Global Partnerships, Heather emerged as the natural choice. As Executive Vice President, Heather will be responsible for building VOS Digital Media Group's domestic and global content and publishing / media partnerships, and executing on our roadmap to help create the world's best digital video and content buying and selling exchange platform and experience," stated Paul Feller, CEO of VOS. "Heather brings to the role extensive go-to-market expertise with global and domestic syndication of content, partnerships an relationships with global brands, organizations, as well as a proven track record of success with established digital media broadcasters."
Binnie previously served as Business Development Manager: Content Strategy and Acquisition at Verizon with a focus on 5G content partnerships and content acquisition across all of Verizon's business units for television network groups, regional sports networks, and top sports leagues including the NBA. Prior to Verizon, Heather worked at CBS Television Distribution, where she was a Divisional Manager on the Syndication Sales Team, responsible for negotiating multi-platform content licensing deals for CBS syndicated brands including Jeopardy, Wheel of Fortune, Entertainment Tonight, Dr. Phil and Judge Judy.
Heather holds a BA in Economics from Dartmouth College, and an MBA from Columbia Business School, with concentrations in Media and in Marketing.
About VOS Digital Media Group: VOS is a global digital video exchange and technology platform providing a seamless process for bringing together content creators and media companies. We specialize in providing and maintaining content sales and sourcing scalability, reducing labor and editorial costs, eliminating errors in metadata assignment and extraction, and drastically decreasing the time to market for both video creators and buyers.
https://www.vosdmg.com
Forward-Looking Statements: Statements in this press release relating to plans, strategies, projections of results, and other statements that are not descriptions of historical facts may be forward-looking statements within the meaning of the Private Securities Litigation Reform Act of 1995 and the Securities Act of 1934. Forward-looking information is inherently subject to risks and uncertainties, and actual results could differ materially from those currently anticipated due to a number of factors. Although the company's management believes that the expectations reflected in the forward-looking statements are reasonable, the company cannot guarantee future results, performance or achievements. The company has no obligation to update these forward-looking statements.
Contact
VOS Digital Media Group
Christopher Stankiewicz
347.620.9272
www.vosdmg.com

Contact