Rose State College, Oklahoma Manufacturing Alliance Announce Educational Partnership in Collaborative Robotics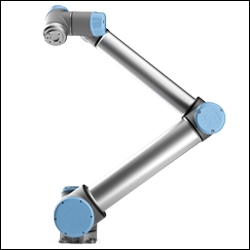 Midwest City, OK, April 15, 2019 --(
PR.com
)-- Rose State College and the Oklahoma Manufacturing Alliance have formed a new educational partnership.
Rose State will be providing training in collaborative robotics for manufacturers across Oklahoma. The Oklahoma Manufacturing Alliance will provide subject matter experts to assist with curriculum development and delivery to reach their goal of automation integration across the state.
Collaborative robots, or "cobots," are different from the huge industrial robots used by other industry in that they are smaller, intended to physically interact with humans in a shared space, and easy to program on the fly. Force sensors and machine vision enable the robots to operate outside cages and their systems are interoperable with other programs currently being utilized in the manufacturing industry.
"Moving Oklahoma to the next level of industry is critical to the growth of the state and collaborative robots are one step in that process," stated Jeanie Webb, President of Rose State College. "We are pleased to partner with the Oklahoma Manufacturing Alliance on this project that will produce a more robust workforce through automation allowing skilled workers to problem solve in other areas."
"It's imperative that small and medium-sized manufacturers are exposed to the potential offered through collaborative robots," said Dave Rowland, president of the Manufacturing Alliance. "It is even more important these manufacturers are provided appropriate technical assistance and training. This innovative partnership with Rose State College is critical to filling a fundamental void and will help companies everywhere thrive in an increasingly high-tech world."
A kickoff event is scheduled for May 16th, 2019 at Rose State College for invited industry partners to hear from companies that have successfully integrated collaborative robots into their workforce.
Rose State is expected to start delivering the first of its collaborative robot training courses in the fall of 2019.
Collaborative robots can be used in manufacturing, aerospace, defense, machining and metal, healthcare, law enforcement, construction, and agriculture.
The market for collaborative robots is surging and could be worth $4.3 billion by 2023.
About Rose State College:
Rose State College is a two-year community college in Midwest City, Oklahoma. Founded in 1970 Rose State now welcomes more than 16,000 students each year to its academic programs. Rose State offers a robust workforce development program designed to meet the customer's needs whether it be up-skilling for a current position or entry to workforce.
About Oklahoma Manufacturing Alliance:
The Oklahoma Manufacturing Alliance helps make manufacturers more productive and improve performance by adopting new technologies. The Alliance is an affiliate of the nationwide Manufacturing Extension Partnership and has been cited by the National Institute of Standards and Technology as "Best Practice" among MEP organizations.
Contact
Rose State College
Tamara Pratt
405.733.7961
www.rose.edu

Contact