State and County Officials and Top Business Leaders Will Attend Center for Adoption Support and Education's 2019 Growing Together Gala April 27, 2019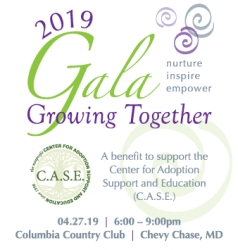 Chevy Chase, MD, April 25, 2019 --(
PR.com
)-- Maryland dignitaries including Montgomery County Executive Marc Elrich and Congressman John Sarbanes (MD-03) will speak at the Center for Adoption Support and Education's 2019 Growing Together Gala at Columbia Country Club in Chevy Chase, Maryland, Saturday, April 27. County officials and additional leaders are also scheduled to attend.
Special guest Amy Brown - adoptive mom, co-host of the popular, nationally-syndicated radio programs The Bobby Bones Show, Country Top 30 with Bobby Bones and Women of iHeartCountry, and host of the 4 Things with Amy Brown podcast - will share her family's personal story of adopting two children from Haiti and realizing the highs and lows that adoptive families face.
The Honorable Beverly J. Woodard, Associate Judge Prince George's County Circuit Court, will present Star of Adoption Awards to seven teens and young adults featured in C.A.S.E.'s new publication, "Beneath the Mask: For Teen Adoptees," available on the C.A.S.E. website at
www.adoptionsupport.org/store
and on Amazon.com.
The Gala will be emceed by Barbara Harrison, special projects anchor at NBC4 and creator of NBC4's award-winning "Wednesday's Child," which features children in foster care in need of permanent adoptive homes. The Gala celebrates the progress C.A.S.E. is making through its Growing Together Campaign to raise $5 million by 2020 to extend the reach and sustain the impact of C.A.S.E.'s services and offer reduced fees to families in need.
The Gala is chaired by Phil Gibbs, president of Hamel Builders, and Maria Garcia Anderson, C.A.S.E. board member and president and Chief Executive Officer of Anderson Fire Protection, Inc. The Honorary Co-Chairs are C.A.S.E. Growing Together Campaign Co-Chair and Senior Vice President at ICMA-RC Catherine Leggett and Mayor of Somerset, Maryland, Jeffrey Slavin.
The Gala will start at 6 p.m. and will feature a silent auction to benefit adoptive and foster families. Online bidding on silent auction items is now available until 7:20 p.m. April 27, at
www.biddingforgood.com/case
.
C.A.S.E. is a nationally-recognized leader in mental health services for the adoption and foster care community. The nonprofit organization's mission is to improve the lives of children who have been adopted or in foster care and their families through counseling, lifelong education, and a growing national network of trained professionals. With seven offices in the Washington, D.C., Baltimore, Maryland and Albany, New York areas, C.A.S.E. has provided clinical services for more than 6,000 clients and their families since its founding in 1998. Visit
www.adoptionsupport.org
to learn more.
Contact
Center for Adoption Support and Education (C.A.S.E.)
Melisa Rogers
301-476-8525
adoptionsupport.org
caseadopt@adoptionsupport.org

Contact