New Angle Yoga Celebrates Grand Opening in Oklahoma City
New Angle Yoga, the newest yoga studio in Oklahoma City, celebrates their grand opening with free power yoga classes April 27 to May 3.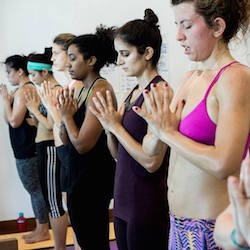 Oklahoma City, OK, April 26, 2019 --(
PR.com
)-- Free Power Yoga Classes April 27 to May 3.
New Angle Yoga, the newest yoga studio in Oklahoma City, announced their grand opening to take place on April 27 to May 3. They are offering free power yoga classes all week. The studio is located in the heart of Midtown at 1108 Classen Drive. The studio differs from others as it focuses on Baptiste Power Yoga, a style of yoga popular throughout the world.
Founder Trish Corley says, "I've led yoga classes and teacher trainings globally and am eager to bring Baptiste Power Yoga to Oklahoma City. This practice, developed by Baron Baptiste, provides a full workout and so much more. All of our classes are designed to accommodate everyone from beginner to advanced students. You don't need to be able to touch your toes or look a certain way to benefit from our classes and our community."
- Teachers are amongst the most qualified and experienced in Oklahoma City.
- Morning and evening power yoga classes 7 days a week.
- Classes are 60 or 75 minutes long.
- Yoga mats and towels are available for rental.
- Infrared heaters are used to warm the room to 85° to 90°F.
About New Angle Yoga:
New Angle Yoga
is the first and only Baptiste Power Yoga Affiliate in Oklahoma City. Founded by Dr. Trish Corley, an internationally recognized yoga teacher, the yoga studio exists to create community and to empower people to access their greatest potential on and off the yoga mat.
Contact
New Angle Yoga
Trish Corley
405-414-6741
https://newangleyoga.com

Contact