New Dating Site Helps Gay Men Find, and Share, Long-Term Relationships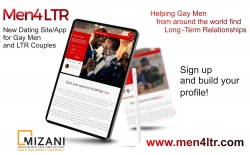 Palm Springs, CA, April 29, 2019 --(
PR.com
)-- Men4LTR is a new dating site for gay men seeking, or sharing, LTR (Long-Term Relationship). In addition to the website, Men4LTR sponsors regular social events inviting members to meet and connect with other men with similar interests.
Many dating sites for gay men are focused on sex and hooking up, but Men4LTR is a site for gay men who are ready to start a more committed partnership with someone based on friendship, companionship, shared interests and love.
Men4LTR originally launched on Palm Springs Pride weekend in Nov. 2018 with a coffee social from 9am-11am at local restaurant Eight4Nine. On April 9th, Men4LTR held it's first "Moonlight" cocktail reception at Eight4Nine on the patio for single gay men and LTR couples. The event was a benefit for AIDS Assistance Program (AAP) Food Samaritans Program which helps provide meals to HIV and AIDS patients in their homes and raised $1200 to support the charity. The Men4LTR website is being launched during the 2019 White Party in Palm Springs, CA.
Are you looking for a friend, lover, companion and someone with whom you can build a life? Are you an LTR couple interested expanding your social network? If you've been out there you realize how hard it is to find an LTR. Men4LTR understand that it's not going to happen over night but sometimes it's best to start with making friends and hopefully the one you've been waiting for will be there. Men4LTR welcomes singles and couples to join, attend their social events, and support new members.
The site was deigned by Mizani Media Branding Studio. Men4LTR worked with Mizani Media on the website design sharing the same vision, and culture.
Learn more about Men4LTR on their Website :
men4ltr.com/
Contact
Men4LTR
Brian Hoff
760-285-8051
men4ltr.com

Contact