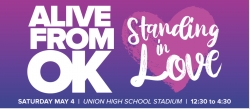 Tulsa, OK, April 30, 2019 --(
PR.com
)-- Alive from Oklahoma. Standing in Love.
The Big, Fun, People-Loving Event
Pregnancy resource centers, adoption/fostering support groups, mobile medical clinics for the uninsured and more will gather with Congressman Kevin Hern 12:30 Saturday, May 4th in Union High School Stadium (UMAC) to showcase free resources available to Tulsa and surrounding communities. They will simulcast "Alive from New York" with Focus on the Family from 1:30-3:30 celebrating life. "We started the ball rolling in a meeting with the Pregnancy Resource Centers sharing details about the Focus on the Family event in Times Square as they do a 4-D late term ultrasound celebrating life. We wanted to go, but quickly realized most people in Oklahoma couldn't get there with us. We have incredible groups pouring love all over Oklahomans. So, we thought--'We should do something here to highlight all the ways people can get help from these generous non-profits as we celebrate life.' We wanted to share ways these groups support a better life right here in the Tulsa and surrounding areas,'" said Ryan and Teresa Goodnight, owners of Community Spirit Magazine (owned by Omega League Media). "We were so thrilled when Congressman Hern wanted to be a part of the celebration. We know he is a proponent of helping citizens with so many programs, but like us, he believes the non-profits and the "C"hurch can interject locally. The "C"hurch, which largely supports these non-profits with volunteers and financial support, has the ability to make a radical impact with generosity and love, taking the burden off of government programs and loving people right here in our own backyard with real, genuine care."
The Goodnights said, "We get a lot of people asking how they can help people--and these groups right here are the best we know at what they do. They love on women in unplanned pregnancy situations, offering a host of free services. There are groups working with DHS to provide support for families needing adoption or fostering assistance. Others dedicated to specialty services many of us might not think about--like healing after abortion will be there. We highlighted most of the groups at communityspiritmagazine.com so that anyone needing help can hop online and look at the list of these amazing groups." The Goodnights added, "It's a big deal to have so many groups helping women and families in with unplanned pregnancies or just in a tough spot right here where we live. For women, men and families needing help, these groups want you to know they exist and are here for you. For those who want to get involved, they have the simplest volunteer positions to some that require a little training. Whatever you have to offer--they can get you plugged in making a difference in our neighbor's lives." The Goodnights emphasized, "We serve a God, who loved this whole world so much that He gave His son as ransom for it—so, we kinda have a really good 'people-loving example' to follow."
There will be bouncy houses, obstacle courses, a giant 6-foot soccer ball field, games and more for kids to enjoy. Josh's Sno Shack will be present with yummy snow cones available. Plus, Hayden Burlingame (also of MidLife Crisis) has put together a great band to play at the event before and after the simulcast.
In addition to the event, Whistler Media has donated 1 minute of digital billboard airtime across the Tulsa/OKC area Saturday, 5/4, at 4:00 PM CST to show a 3-D ultrasound to celebrate all of life even in its tiniest form.
Mend Medical Clinic, Crisis Pregnancy Outreach, GoLife Mobile Medical, Nightlight Christian Adoptions, Birthright of Tulsa, Northeast Oklahoma Hope Resources, Compassion Women's Center, have provided financial support to make the event happen. All of these groups are uniting together generating awareness for what they do so that more people can get help.
Come out and join us to find out how to be loved on or to give some love! It's going to be a super fun day in the sun!
Focus on the Family "Alive from NY" Info:
Stand up for life
Join Focus on the Family on May 4th for a free live stream event, "Alive from New York." With live music, inspirational speeches, and abortion survivor stories, we will unite as one voice to celebrate the sanctity of human life and encourage the support of women facing unplanned pregnancies. Then, to help the world #SeeLifeClearly, we will light up Times Square with a live 4D ultrasound broadcast on massive digital screens.
Community Spirit Magazine is a northeastern Oklahoma Christian magazine challenging the "Body of Christ" to #GoDoBe Christ in our community. With new ownership, under Ryan and Teresa Goodnight, relaunching the magazine January 1st, 2019, the continued focus is on uniting the churches, as we come together to impact our community. The magazine speaks directly to Christians--pushing them out of the pews and into the streets with the truth of God's word and his directive to love our neighbors.
If you would like more information about this topic, please call Teresa Goodnight at 918.956.0700 or email info@communityspiritmagazine.com. Teresa can get you any contact information for any of the other sponsoring organizations. The original organization list is attached hereafter. However, more groups have joined including DHS.