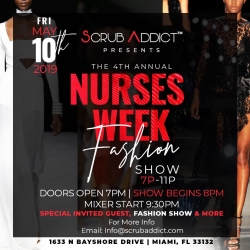 Miami, FL, May 02, 2019 --(
PR.com
)-- In celebration of Nurses Week, each year Scrub Addict hosts the Annual Nurses Week Fashion Show to honor and celebrate exceptional nurses all around the world. This year Scrub Addict will donating 15% of the ticket proceeds to Davica Williams of The Wondertwinz LLC, who has been shedding light on Scleroderma, a crippling disease which has taken her sister's life. Scrub Addict will also announce the winners of their Top 5 Nurses contest and present them an award at the 4th Annual Nurses Week Fashion Show on May 10th, 2019.
The show will be hosted by Tico Armand: Haitian model, singer and actress, and will featured several designers, special guest speakers, vendor booths and a mixer to follow.
When: Friday, May 10th, Doors open at 7PM, Show begins 8PM, Mixer starts at 9:30PM
Where: Marriott Biscayne Bay, 1633 N. Bayshore Drive, Miami, Florida 33132
Tickets: Purchase your tickets at
www.eventbrite.com
About
Scrub Addict™ is a medical apparel line that caters to all healthcare professionals around the world. We will position ourselves as the top medical retail store servicing a wide variety of healthcare needs.
For more information about Scrub Addict™, Nurses Week Fashion Show, and future events please visit their website at: www.scrubaddict.com.