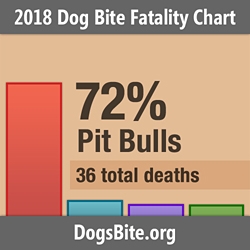 Austin, TX, May 10, 2019 --(
PR.com
)-- DogsBite.org, a national dog bite victims' group dedicated to reducing serious dog attacks, releases 2018 U.S. dog bite fatality statistics. Last year, dogs inflicted 36 deadly attacks. Pit bulls inflicted 72% (26) of these deaths, over 8 times more than the next closest breed, "mixed-breeds," with 3 deaths. Two fatal dog attacks unreported by media outlets were captured in records requests by the nonprofit; a death in California and Nevada.
In 2018, 78% (28) of dog bite fatality victims were female; the highest annual number of female victims in the nonprofit's 14-year data set (2005 to 2018). Owner-directed attacks (when a dog kills its owner) surged in 2018, comprising 28% of all deaths. Of the 10 owner-directed attacks, 80% (8) killed women ages 28 to 64 years. Pit bulls inflicted 70% (7) of these deaths and mastiff-type dogs inflicted 30% (3). Rescued or rehomed dogs carried out 3 of these attacks.
Fatal dog attacks inflicted by rescued or rehomed dogs also surged in 2018, accounting for 19% (7) of all deaths; 57% (4) of these dogs were vetted by an animal shelter prior to adoption. Rescued pit bulls inflicted 71% (5) of these deaths, including a pit bull that had been on "death row" in West Virginia; a mixed-breed that was part-pit bull inflicted 1 death and a mastiff-mix inflicted 1 death. Public shelters in Clark County, Nevada adopted out 2 of these dogs.
In 2018, only 6% (2) of dog bite fatalities resulted in criminal charges, down from the 13-year average of 21%. Both cases involved pit bulls, including charges against a babysitter in Missouri and a husband in Kentucky. Florida and North Carolina led all states in lethal dog attacks in 2018, each with 4 deaths. In Florida, all of the victims were female children ages 0-6 years, including 3 infants. California, Pennsylvania and Texas followed, each incurring 3 dog attack deaths.
2018 Dog Bite Fatality Statistics & 14 Year Highlights
This year's release includes statistics from the 14-year data set (2005 to 2018). During this period, canines killed 471 Americans. Pit bulls contributed to 66% (311) of these deaths. Combined, pit bulls and rottweilers (47) contributed to 76% of the total recorded deaths. When mastiff-type guard dogs and war dogs are added -- the types used to create "baiting" bull breeds and fighting breeds -- this small group of dog breeds accounts for 84% (397) of all dog bite-related deaths.
Discussion Notes examine 2018 annual trends and trends over 14 years of fatal dog attack statistics by reviewing a table and chart. The table is divided into 3 periods (5, 5 and 4-years) and examines multiple trends and the percent change between the 1st and 3rd periods. The chart is divided into 2 periods (a dual pie chart) and shows the rising domination of pit bulls in fatal attacks, accounting for 60% of all deaths (from 2005 to 2012) to 73% (from 2013 to 2018), a 22% rise.
Discussion Notes - 2018 U.S. Dog Bite Fatality Statistics
Highlights from the table, which documents changes between the 1st period (2005-2009) and 3rd period (2015-2018) include the following:
--While dog mauling deaths of children (≤ 9 years) have decreased between the two periods, infant deaths (< 1 year) have increased by 29%.
--Female victims of fatal dog maulings have risen from 46.3% to 56.6% between the two periods, a 22% rise. Females are now the majority of all victims.
--Persons (≥ 10 years) now account for 60% of all dog bite fatality victims. The fastest rising adult age group, (50-69 years), rose by 82% between the two periods.
--Owner-directed fatal attacks increased by 67% between the two periods and fatal attacks inflicted by rescued or rehomed dogs increased by over 600%.
Trends: 14 Years of U.S. Dog Bite Fatalities in 3 Periods (2005 to 2018), a PDF file, is available for download on the nonprofit's 2018 U.S. Dog Bite Fatality Statistics web page and the adjoining discussion notes blog post.