No Free Attention: Author Frustrated by "Plagiaristic Copycats" on YouTube
Alan Roger Currie has recently been voicing his harsh criticisms toward other YouTubers for infringing on his intellectual property and plagiarizing many of his specific talking points, unique terminology, and signature phrases from his eBooks, paperbacks, and audiobooks. Currie, who is an internationally-known author and professional dating coach for men, believes YouTube should have better policies in place to protect the copyrighted material of authors, self-help gurus, and podcasters.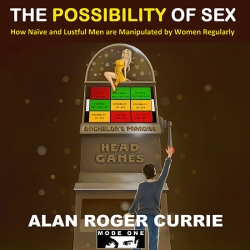 Los Angeles, CA, May 13, 2019 --(
PR.com
)-- Alan Roger Currie has been uploading video podcasts on his YouTube channel since early April 2017. Recently, some of his fellow YouTube personalities have been the target of his ire regarding copyright infringement and the blatant duplication of his speaking style and specific talking points.
"I simultaneously love the YouTube platform, and hate it. One of my harsh criticisms of the platform is that YouTube is full of people who have no originality or unique manner of verbal expression of their own. So what they do is attempt to duplicate someone else's way of speaking, their unique terminology and concepts, and their specific talking points. It is extremely frustrating," said Currie, who is the author of seven eBooks, four paperbacks, and four audiobooks.
In 2017, Currie uploaded a video podcast titled "No Free Attention," which represents a signature phrase of his as well as a personal philosophy of his that is documented in his book titled "The Possibility of Sex: How Naïve and Lustful Men are Manipulated by Women Regularly" which was published as an eBook in October 2012 and an audiobook in November 2014.
In recent weeks, Currie said he has witnessed at least a half dozen other YouTube personalities create videos with the same "No Free Attention" slogan and philosophy, and essentially duplicate, repeat and regurgitate just about all of his major talking points from both his eBook and popular audiobook.
"I was a host for an internet radio show on BlogTalkRadio for nine years, and not once did I have a situation where another host on that platform was guilty of blatantly plagiarizing my content, but in contrast, I have had to deal with this repeatedly since I have been regularly uploading content on YouTube and it has made me extremely irritated," said Currie, who said he plans on uploading the vast majority of his new content moving forward on his
Patreon.com page
.
Currie has had YouTube remove over fifty videos since 2010 because of blatant copyright infringement infractions related to one or more of his copyrighted eBooks, paperbacks, and audiobooks.
"I hope YouTube becomes more strict when it comes to their policies regarding infringing on other people's intellectual property, because if things do not change or improve, my days as a YouTube personality will surely be numbered."
Alan Roger Currie's biographical information can be found on
Wikipedia.org
and his eBooks, paperbacks, and audiobooks can be found on Amazon.com
Contact
Mode One Multimedia, Inc.
Alan Roger Currie
1-219-789-1948
http://patreon.com/modeone
Ms. Adrienne Yates (Publicist): 1-614-975-5690

Contact