Boaterz n Bikerz of America: Hull of a Tour 5 Wraps Its Epic 2019 "Dragon's Roar"
Boaterz n Bikerz of America Hull of a Tour 5 just wrapped an epic week-long motorcycling and boating event, "The Dragon's Roar," with 36 participants from the boating industry and 24 motorcycles, powered by title sponsor Evinrude/BRP along with Sea Tow, Malibu Boats, Boogey Lights, Emerald Coast Marine Group, Jim Krueger Photography, Born to Ride Magazine and Kenton Smith Marketing.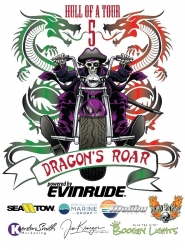 Venice, FL, May 14, 2019 --(
PR.com
)-- A group of boating industry executives and their sponsored friends from eight states joined together for the fifth Boaterz n Bikerz of America: Hull of a Tour 5, "The Dragon's Roar," a week-long epic adventure that celebrates the best of boating and motorcycling and the recreational outdoor lifestyle.
Staged this year in the Smokey Mountains with base-camp at the Iron Horse Motorcycle Lodge and Resort in Robbinsville, NC, the event brought together 36 participants and 24 motorcycles for a series of thrilling bike and boat rides in the tri-state region of North Carolina, Tennessee and Georgia.
"It was an awesome tour this year and our crew shared some fantastic experiences together," said event producer and Hull of a Tour co-founder Wanda Kenton Smith of Kenton Smith Marketing. "Our event is unique in that we combine the best of both boating and motorcycling activities on our agenda to whet the appetites and passions of our tour participants."
This year's Dragon's Roar included five full days of scheduled tour events.
"From slaying the infamous Tail of the Dragon and the Georgia Dragon, to climbing the summit of Clingman's Dome; from riding the Cherahola Skyway and Blue Ridge Parkway, to discovering stunning waterfalls; from going wake surfing on Lake Loudon with Malibu Boats, to visiting the Wheels Through Time Museum in Maggie Valley; there was plenty of spectacular sites and natural wonders to be found and experienced around every curve," said Kenton Smith. "The scenic natural beauty of the area, coupled with the great friendships that were forged, made this one of the best tours in our history."
Prior events have included the original Florida – California 3000-mile cross country Hull of a Tour; The Freedom Ride, from Florida to Washington DC that folded into the million-bike Rolling Thunder on Memorial Day Weekend; Pacific Coast Rush, from Seattle, WA to San Francisco, CA including a leg to Big Sur; and The Lobster Roll, a four-state tour throughout New England.
This year's Hull of a Tour 5 was supported by several national brands and powered by Title Sponsor Evinrude/BRP, along with Sea Tow, Malibu Boats, Emerald Coast Marine Group; Boogey Lights; Born to Ride Magazine; Jim Krueger Photography and Kenton Smith Marketing.
In addition, Kenton Smith, a former marine consumer and trade magazine editor, freelance writer and national marketing columnist, published a daily blog highlighting tour activities that was featured in Soundings Trade Today, along with articles in Born to Ride Magazine, a popular biker publication distributed in seven southeastern states.
"This was our second year to sponsor Hull of a Tour and our first as title sponsor," said Andy Lindstrom, Evinrude Regional Sales Manager and 3x tour participant. "Besides Evinrude, BRP also owns the Sea-Doo and Can Am Spyder powersports brands so our partnership with Hull of a Tour is a perfect fit for our recreational products and active outdoor lifestyle."
Added Shawn Talpey, president of Emerald Coast Marine Group with three retail locations and a full-service marina in Northwest Florida, "It's our first official sponsorship for Hull of a Tour and we came aboard to support this great effort. We've followed this tour since its launch and believe it is a perfect opportunity to help promote events that encourage and spotlight the fun of boating and outdoor recreation."
For more information about Boaterz n Bikerz of America Hull of a Tour 5 – The Dragon's Roar, visit
http://www.kentonsmithmarketing.com/dragon-s-roar.html
or contact Kenton Smith –
wanda@kentonsmithmarketing.com
Contact
Kenton Smith Marketing
Wanda Kenton Smith
407-697-8055
kentonsmithmarketing.com

Contact