GenRocket Integrates with Test Automation Frameworks to Enable Continuous Integration and Delivery
GenRocket's advanced Test Data Generation platform is now able to deliver "zero-touch, real-time test data" for any test automation environment.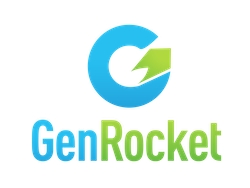 Ojai, CA, May 15, 2019 --(
PR.com
)-- GenRocket today announced the ability to integrate with all major test automation frameworks and continuous integration/continuous delivery (CI/CD) platforms to enable continuous testing operations for today's fast-paced software development environments.
GenRocket TDG (TM) is the industry's first and only patented Test Data Generation platform capable of generating controlled and conditioned real-time synthetic test data with referential integrity at the rate of 10,000 rows per second. GenRocket TDG includes numerous connection methods that allow seamless integration with test automation tools like Selenium, JMeter and Cucumber as well as CI/CD pipeline servers like Jenkins, TeamCity and CircleCI.
The test automation market is booming with a projected growth rate of 15% CAGR between 2017 and 2025 and world-wide revenues expected to reach $109 Billion by the end of the forecast period (as reported by
Transparency Market Research
). The market is fueled by the continued acceleration of software release cycles. The average release cycle is shrinking from weeks or months to just hours or days and is driven by the industry-wide adoption of Agile and DevOps development models.
Jenkins is the unqualified leader in CI/CD pipeline servers with over
70% market share
. It has become the principle vehicle for orchestrating the code/build/test/release process at the heart of a continuous integration and delivery process.
Selenium is a suite of open source software testing tools used by leading software-driven companies like Netflix, Google, HubSpot, and Fitbit. According to
iDatalabs
, Selenium is in production at more than 29 thousand companies and holds a 27% market share, and maintains a commanding lead over the rest of the pack in the test automation tools arena.
"We describe the impact of combining GenRocket TDG with test automation frameworks and CI/CD pipelines as Test Automation Synergy," noted Garth Rose, GenRocket CEO and Co-founder. "If you're missing any one of these 3 essential technologies, then you will fail to realize the full value of your test automation investment as measured in terms of cost, quality or time efficiency."
To illustrate the power and simplicity of GenRocket TDG, the company has created a short video to demonstrate "Test Automation Synergy with GenRocket, Jenkins and Selenium." Also available is a comprehensive eBook, "Achieving Test Automation Synergy," that serves as a guide for understanding use cases and following best practices when deploying GenRocket TDG into a test automation environment.
To view the demonstration video or download the ebook, visit
Test Automation for Continuous Delivery
on the company's website.
About GenRocket
GenRocket is the leader in real-time synthetic Test Data Generation (TDG), high-performance technology for provisioning test data at the speed of development. GenRocket's groundbreaking platform accelerates test data provisioning by more than 1000% as it improves data quality and test coverage while it reduces cost and ensures data privacy. Headquartered in Ojai, California, GenRocket operates in global markets through a network of testing service partners and has customers in more than 10 different vertical markets including financial services, insurance and healthcare. For more information, visit
www.genrocket.com
.
Contact
GenRocket, Inc.
Shannon Cyr
1-214-277-1680
www.genrocket.com

Contact