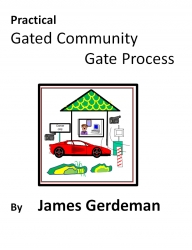 Coral Springs, FL, May 22, 2019 --(
PR.com
)-- JDGerdeman believes this document will provide food for thought in the environment of the Gated Community. Further JDGerdeman says the process of allowing an access into a Gated Community has many aspects. JDGerdeman says this is meant to provide the reader with ideas about setting up the gate areas and the required management function of the community's gates. Security companies can use the document as a tool for their customers.
JDGerdeman developed an Assessment Form at the end of this document that is offered to help organize the security situation for the residential area under consideration. JDGerdeman says forms can be used as a tool to help focus on the areas that need attention and this may be specific parts of the perimeter or a specific gate that needs improvement or may consider the entire community. JDGerdeman said this may be used to stimulate conversation by the community's security committee or panel.
Link to Publication: www.JDGerdeman.com for links to Jim and Lulu.
About Author
Jim Gerdeman was educated at Bowling Green State University and earned his Industrial Engineering Degree from the University of Dayton. He is the "Middle Class American." Jim has been a systems engineer, technical manager, integration support manager, and owner of his own gate support company. He has written books on radio frequency identification. He has written books about his personal life, equal opportunity, a jobs/career book, political opinion books, how to stop smoking and technical subjects. He has written several stage and screen plays. He advocates diversity and the willingness to work hard to achieve.
About Lulu
Founded in 2002, Lulu is the world's fastest-growing print-on-demand marketplace. Please see www.lulu.com.
Media Contact: James Gerdeman, jdgerdeman@aol.com, Cell Phone 786-256-8902.