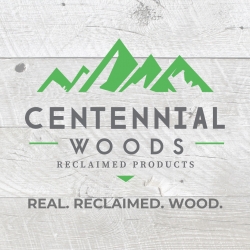 Laramie, WY, June 03, 2019 --(
PR.com
)-- Centennial Woods, LLC is rolling out a new look for their company in celebration of their 20th year in business.
"After 20 years of serving our clients, customers, and team members, we took a look back over our history. We decided it was time to update and upgrade our logo to reflect the commitment of our team members that helped bring Centennial Woods to the forefront of reclaimed products," says CEO Ed Spal. "The new design is impactful and simple with a modern style reflecting how our reclaimed wood is used in architecture and design. The green is a nod to our continued effort to provide the cleanest and most sustainable product in the industry. The mountains reflect the Snowy Range where we first started in Centennial, WY. This new logo unveiling reflects the commitment and longevity of our company and its team members."
Working closely with The BARK Firm, a marketing agency based in Casper, Wyoming, the company's rebrand will include a redesign of the Centennial Woods, LLC logo, website, graphics, communications, signage, and packaging. Featuring a new green and gray color scheme, the brand will be represented in a clean, updated way while making a nod to the company's commitment to sustainability.
Centennial Woods, LLC reclaims wood from snow fences throughout Wyoming that help to keep roads clear during harsh winter storms. Recycling this wood gives it a second life as wall paneling, flooring, siding, and more. These reclaimed products are found in residential and commercial projects from award-winning designers, architects, and builders around the world. To learn more about the company visit them online at centennialwoods.com or contact CEO Ed Spal at espal@centennialwoods.com or by calling 307-745-3672.