Nathaniel's Hope Launches Make 'm Smile Festival in Downtown Orlando Lake Eola This Saturday
The 17th Annual Make 'm Smile festival hosted by Nathaniel's Hope is among the largest event in the nation celebrating VIP Kids with special needs and their families. Make 'm Smile honors 3000 VIP kids/families and brings together 450 area volunteers, 120 vendors/exhibitors plus more than 50 corporate and community sponsors for a day full of family fun, interactive games, food and entertainment. Top 8 American Idol Finalist Alyssa Raghu and her band Latitude 28 headlines on the live stage.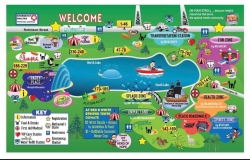 Orlando, FL, May 30, 2019 --(
PR.com
)-- This year's Make 'm Smile event hosted by Nathaniel's Hope is expected to be the biggest in the organization's 17-year history as 3000 VIP Kids with special needs, their families and 40,000 community supporters turn out to Orlando's Lake Eola this Saturday, June 1, for a day chock full of fun, festivities and celebration.
"Based on our advance registrations, this year's Make 'm Smile should be our biggest and best ever in terms of participation and community support," said Nathaniel's Hope co-founder Marie Kuck. "In addition to our VIP Kids with special needs and their families, we are thrilled to have 120 exhibitors from the special needs community, 450 volunteers and more than 50 corporate sponsors actively engaged in this year's event."
The 2019 party kicks off at 7:30 am Saturday at Lake Eola and wraps at 1 pm. Featured special themed zones are spread strategically throughout the park including everything from a petting zoo with live llamas and gators, to interactive sports displays from the Orlando Magic and Orlando City soccer. Fun water activities, cool transportation exhibits and a whole host of popular celebrity mascots and characters from area theme parks will be on hand to greet and engage festival-goers.
Among many exciting activities, the live stage will feature a mix of VIP kids with special needs, local entertainers and American Idol Top 8 finalist Alyssa Raghu with her band, Latitude 28 who headlines and will perform a one-hour show from 11:15 – 12:15 at the amphitheatre.
"This is Alyssa's first appearance in Orlando since the American Idol finale and her performance of the national anthem at the 2019 National Memorial Day Concert on PBS," said Kuck. "We are very excited to welcome her and know her participation will bring plenty of smiles to our VIP kids and her fans throughout Central Florida."
Additional stage performances include Art from the Heart, Central Florida Dreamplex Zumba, EZ Bro Band Joyful Voices, Medieval Times, Menestrelli Dog Show, Northland Signing Choir, Russell Home Dancers and all the way from Ohio, Sharon's Signers.
Orlando Mayor Buddy Dyer and other dignitaries will be recognized at 10 am, followed by the traditional VIP Kids' singalong, "I Believe I Can Fly," led by contemporary Christian artist Carolyn Pankella. An event highlight is the annual "Hall of Hope Butterfly Release" at 10:30 am that honors VIP kids who have moved to heaven.
A special feature this year is Nathaniel's Market which showcases an inspiring array of young special needs entrepreneurs and their businesses.
Another popular event designed to connect VIP special needs families with the community is the annual "Friendship Stroll," featuring an inspiring walk around Lake Eola. All kids participating in this event receive a free Chick-fil-A meal coupon.
"We really need more buddies from the community to join our VIP Kids and their families on a Friendship Stroll," said Kuck. "This is the perfect opportunity to make new friends while actively supporting the special needs community in our area."
2019 Make 'm Smile sponsors include Regal Boats; Chick-fil-A; Crayola Experience; Walgreens; Children First Healthcare System; Leland Management; Orlando Health; Amerivita Home Care; SeaWorld; BNY Melon | Pershing; Bags; A & W All American Food; Fish on Fire; Shake Shack; Dunkin Donuts; Flippers Pizzeria; Highwoods; and VIP Valet. Official media partners include WFTV 9 Family Connection; Z88.3; The Good Life TV 45; and Clear Channel.
Admission requires wristband and is free to pre-registered VIP Special Needs Kids and their immediate families; proof of disability required. Cost is $5 for the community at large which includes attractions, entertainment and food while it lasts.
To register in advance or for more information, call Nathaniel's Hope at (407) 857-8224 or visit www.nathanielshope.org
About Nathaniel's Hope - Nathaniel's Hope is a 501(c)(3) organization established in 2002 in honor of Nathaniel Timothy Kuck whose parents Tim and Marie Kuck discovered firsthand the challenges associated with raising a child with special needs. Nathaniel's Hope celebrates special needs kids of all ages (VIP Kids) and their families with the goal to educate and equip communities with tools and programs to assist kids with all types of disabilities including physical, cognitive, medical or hidden disability, chronic-or life-threatening illness, or those who are medically fragile.
Contact
Kenton Smith Marketing
Wanda Kenton Smith
407-697-8055
kentonsmithmarketing.com
info@nathanielshope.org
marketing@nathanielshope.org

Contact